PARIS — Five ISIS operatives were planning a terrorist attack in France next week, officials said Friday.
The alleged plot involved an arsenal of weapons and guidance from a jihadi coordinator in the Middle East.
Four of the suspects were arrested in Strasbourg and the other in Marseille on Sunday, but details of the allegations were only revealed by Paris Prosecutor Francois Molins on Friday. The men were due to be charged before a judge later.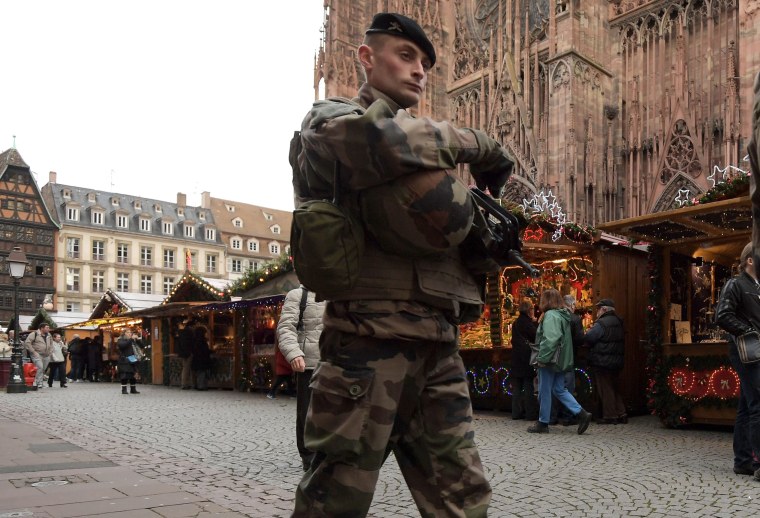 Their arrest "thwarted an imminent terrorist attack planned for Dec. 1 on French soil," Molins told a press conference.
The alleged plot would have come just over a year after a group of ISIS-directed jihadis killed 130 people in coordinated attacks across Paris.
The prosecutor didn't say what next week's alleged target was, but he revealed that French intelligence services had found "an arsenal of weapons" during the raid in Strasbourg, as well as encrypted mobile-app messages showing the group were "guided remotely" from a coordinator in the region of Syria and Iraq.
Screengrabs found on the suspects' computers showed a list of potential targets, according to the prosecutor, although he did not name any of the locations. On Thursday, a French security official told Reuters that the possible targets included an amusement park.
Related: Paris Attacks Inspire Huge Influx of Police Recruits
All of the suspects had attempted to travel to Syria, and handwritten notes were found during the Strasbourg raid showing the men had pledged allegiance to ISIS, the prosecutor added.
The Strasbourg suspects were identified as:
Yacine B., a French workshop instructor in his 30s who had no criminal record
Hichan M., a French warehouse worker in his 30s with six convictions on his criminal record
Samy B., a French-Tunisian grocery-store worker in his 30s with three kids and seven convictions on his criminal record
Zacharia M., also a French-Tunisian grocery-store worker in his 30s with no criminal record.
According to Molins, authorities found telephone messages that revealed the men had received specific instructions and GPS coordinates from their contact in the Middle East, telling them where to pick up the weapons and how to use them.
The suspect arrested in Marseilles was identified as a Moroccan named Micham M., who did not have a fixed address and was not previously known to police.
Officials found encrypted messages showing that he was about to receive a large sum of money to obtain weapons in the same manner as the Strasbourg group, Molins said.
The two groups were acting separately but in contact with the same person through messages sent through mobile apps, the prosecutor added.
He said that the men had downloaded the Periscope application just before they were arrested, suggesting they may have planned to live-stream the attack direct to social media.
France is still in a state of emergency after two terror attacks in January and November last year saw dozens of people killed by jihadi attackers.
A manhunt was also underway Friday after a female employee at a retirement home for elderly missionaries was fatally stabbed and another person was wounded. Authorities said there was nothing to connect the incident to Islamist terrorism.