This pop star has climbed on tanks to fire shells at ISIS positions but is banking on another weapon in her arsenal to defeat the militants in northern Iraq: music.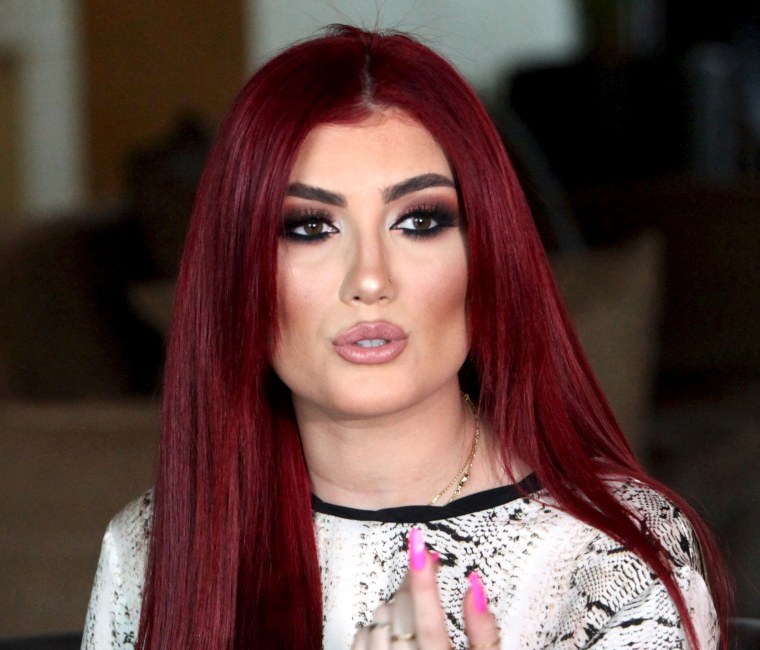 Helly Luv — with her heavy make-up, bright red hair, customized military fatigues and gold rifle-shaped rings — knew her songs would draw the ire of ISIS. That, she said, was kind of the point.
"As an artist my weapon is not guns, my weapon is my music," she said. "If I can fight against them with my music, then my song is as powerful as or more powerful than their weapons."
The war in northern Iraq hits close to home for Luv: she grew up in the country's Kurdistan region and her father once fought for the Peshmerga, the very forces today battling ISIS.
That's why she chose the song "Revolution" as her latest salvo — and filmed the hit single's video in a village near Mosul to inspire the Kurdish forces there fighting against ISIS. Getting a chance to fire a live shell at ISIS positions in the process was an added bonus, she said.
"It was amazing," she said. "I was screaming, 'more, more!' I just hope I didn't hurt any animals."
Luv said she's received death threats since the release of the single — which shows her strolling through a war zone in gold stilettos, gyrating on a car and firing a machine gun — but she expected the intimidation.
"I'm going against the most dangerous terrorist group in the whole world but I feel that there are thousands of people risking their lives against them on the battlefield," she told NBC News from northern Iraq. "If my life is at risk but I can get the message to millions of people then that is a privilege."
Luv, whose real name is Helen Abdullah, was born in northern Iran in 1988 amid a war with Iraq. She was smuggled out of the country on horseback by her mother to Turkey, where after a month or so of living on the streets they made it to a refugee camp.
"The world needs more artists who speak about issues instead of just clubs and women"
Her father — like his father before him — stayed behind to fight with Kurdish Peshmerga forces. When the war ended, he joined Luv and her mother in Turkey before the family sought and gained asylum in Finland.
They settled in Lahti, a small city about 65 miles north of Helsinki. Life was tough as the only girl in class with dark hair and eyes, Luv recalled. Her classmates were all blond-haired, blue-eyed Scandinavians.
She took comfort in dancing and music — learning how to play piano and studying ballet, modern and hip-hop dance.
Michael Jackson was the "biggest influence in my life because he used his music to deliver messages, be that fighting for humanity or poverty or animal rights," she said. "The world needs more artists who speak about issues instead of just clubs and women."
Determined to pursue her dreams of being a singer in the U.S., Luv worked two jobs to save up the money and moved to Los Angeles at 18.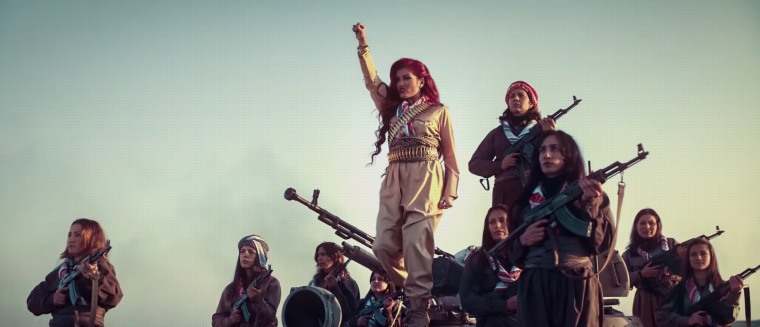 "It was very tough in the beginning because I was very young, in a strange country and I didn't know anyone in the music industry," she said. "There were a lot people who promise you things and try to sell you your dream but a lot of it is nonsense."
Luv said her apartment had no electricity and was infested with roaches — but she was undeterred. She posted videos of her singing online; it was a year before she got her first break.
She didn't think the message "was serious" at first: a pair of top music producers who had worked with Beyonce and Rihanna wanted her to audition. Luv said she sang Whitney Houston's "I Have Nothing" over the phone — a song "which kind of represented where I was at the time."
That led to a management deal, a move to New York and ultimately last year's single "Risk It All."
Luv shot the video for that song in northern Iraq's city of Erbil last August, where she witnessed an influx of Yazidi refugees escaping persecution from ISIS.
She said their plight — and the armed resistance of her Kurdish countrymen to the militants scourge — inspired her to write the lyrics to "Revolution."
"United, united we're marching, yah. Rise up 'cause we're so much stronger as one. Breaking the silence as loud as a gun."