BAGHDAD — Nine Iraqi soldiers were killed when U.S.-led coalition warplanes mistakenly struck the troops near the ISIS-controlled city of Fallujah, Iraq's defense minister said on Saturday.
Iraqi Defense Minister Khalid al-Obeidi ordered an investigation into Friday's alleged friendly-fire incident. He said the aircraft were supporting Iraqi forces battling ISIS because poor weather had grounded the country's helicopters. The victims included one officer, according to al-Obeidi.
Defense Secretary Ash Carter called Iraq's prime minister, Haider al-Abadi, to express condolences. Carter later told reporters that the incident appeared to be "a mistake that involved both sides."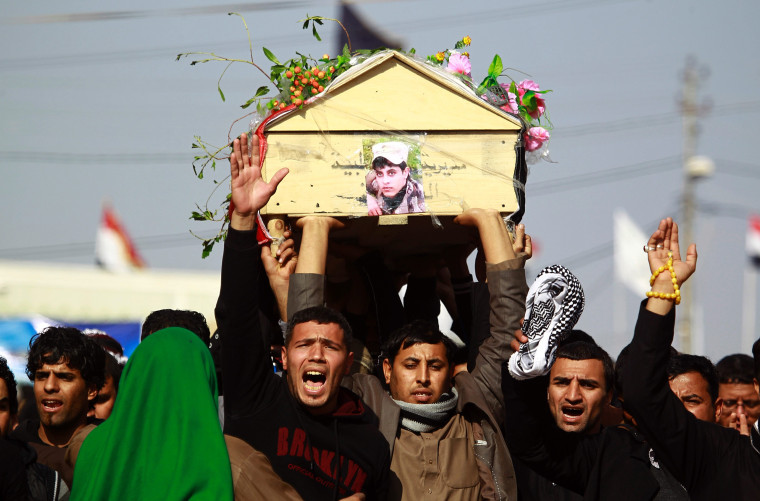 A senior security official who spoke on the condition of anonymity said the U.S.-led coalition was asked to launch the strikes because bad weather wouldn't allow for the Iraqi Air Force to launch on ISIS posts.
The U.S-coalition airplanes then launched two accurate strikes, but when soldiers moved, a commander had to report on the unit's new position, which is when the Iraqi soldiers were hit, the security official said. "It's the mistake of the commander of the regiment," the official told NBC News.
The U.S. military said the strikes came in response to requests and information provided by Iraqi security forces on the ground near Fallujah.
Brett McGurk, the special presidential envoy for the coalition against ISIS, tweeted that the U.S. would conduct "a thorough investigation and express deepest condolences for any loss of life among brave Iraqi soldiers."
But Hakim al-Zamili, the chairman of security and defense committee in the Iraqi parliament, called for action against the American pilot.
"This is a heinous crime and we cannot just let it go without sending to trial those who were behind it," al-Zamili added.