Iraqi forces on Monday declared a key victory in their battle to retake the western city of Ramadi from ISIS, seizing a central government compound in what the United States called a "proud moment."
Brig. Yahya Rasool told state television that the Iraqi flag was flying over the complex, saying the city had been "liberated" following a weeks-long fight against the militants.
U.S. Defense Secretary Ashton Carter congratulated Prime Minister Haidar al-Abadi on their "progress" Monday, saying in a statement: "Now it's important for the Iraqi government, working with provincial and local authorities, to seize this opportunity to maintain the peace in Ramadi, prevent the return of [ISIS] and other extremists, and facilitate the return of Ramadi's citizens back to the city."
However, other officials urged caution and stressed that the battle for Ramadi was not yet over.
Pockets of ISIS fighters were still believed to be holed up in the western city, a senior Iraqi security official. The official said on condition of anonymity that about 45 percent of Ramadi remains under militant control, mainly in northern and eastern districts that are now surrounded by government forces.
GALLERY:Iraqi Forces Seize Compound in Ramadi, Declaring Major Victory Over ISIS
And a senior U.S. military official said the city of Ramadi was far from secure, with several heavily mined neighborhoods still under ISIS control and in need of clearing.
"The fight there is far from over," the official told NBC News. "Iraqi forces may still face heavy fighting within the next few days."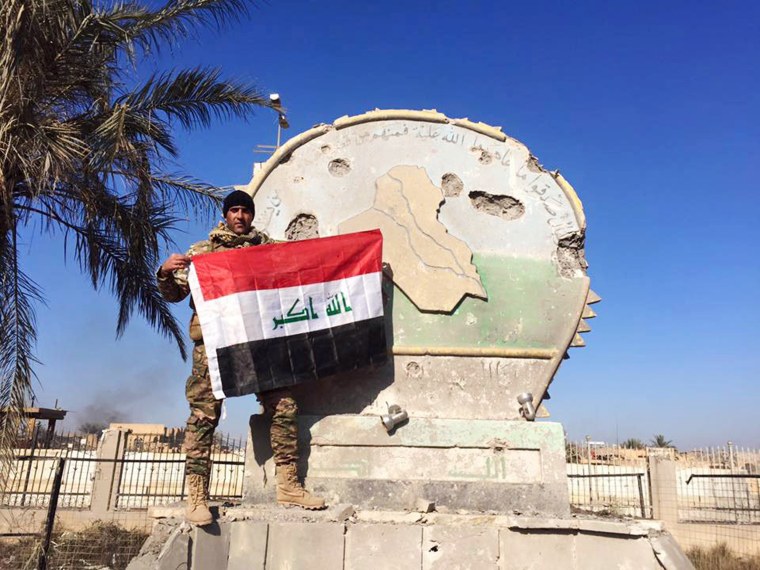 Still, retaking control of the complex was considered to be the last major hurdle in the operation to drive ISIS out of the city seven months after it fell to militants in an embarrassing defeat for the U.S.-backed forces.
Col. Steve Warren, the U.S. military spokesman in Baghdad, congratulated Iraqi forces for "their continued success" against ISIS.
"The clearance of the government center is a significant accomplishment and is the result of many months of hard work," he said in a statement, adding: "Today's success is a proud moment for Iraq."
Iraqi forces launched an offensive to retake the city earlier this month, advancing toward the city center and surrounding it with thousands of fighters.
Related: ISIS Is Losing Territory, But That Doesn't Mean It Is Losing
A spokesman for Iraq's counterterrorism forces told NBC News last week that fewer than 100 ISIS fighters were believed to be in the city.