Iraqi Christians driven from their homes by ISIS have formed their own militia and are fighting alongside their "Muslim brothers" to retake their homeland from the extremists.
The 1,000-strong Babylonian Brigades is the only Christian militia under the Shiite-dominated umbrella group of volunteer fighters known as the Popular Mobilization Forces — and they're out for revenge.
ISIS "displaced us from our houses, they took our money, killed our young men and women and they took our properties," the group's commander, Rayan Al-Kildani, told NBC News. "Therefore, Christians decided to fight the terrorists of ISIS."
"In battlefield you forget who you are, to which religion you belong...The only thing that you think of is how to defeat your enemy."
"By the will of God we will avenge what happened to our community," he added.
Al-Kildani said there was no room for religious differences on the battlefield.
"ISIS terrorists do not differentiate among Christians, Muslims, Sunnis and Shiites — they kill everyone," he said. "We have to help our Muslim brothers liberate Iraq."
Abu Yasser, a 53-year-old former Iraqi Army officer now fighting in the brigades, explained that the battlefield unity was just the latest chapter in a historically harmonious relationship. Christians served alongside Muslims — both Sunni and Shiite — in the country's army under former leader Saddam Hussein.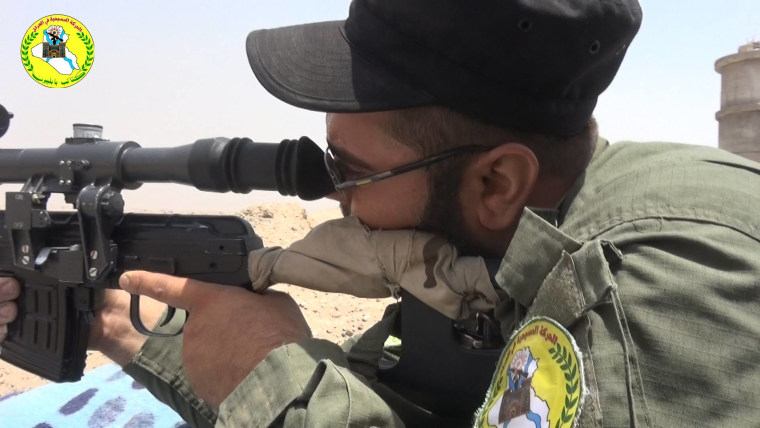 Christians have "lived for years side-by-side with ourMuslim brothers," he said. "We drink from the same river and eat the same food; this goes back hundreds and thousands of years."
Besides, he added: "In battlefield you forget who you are, to which religion you belong ... The only thing that you think of is how to defeat your enemy."
Still, recent years have proved challenging for Iraq's Christian communities — which are among the oldest in the world. They accounted for just around 260,000 of Iraq's population of 32 million as of 2010, according to the CIA World Factbook. However, thousands of Iraqi Christians have been killed or fled since ISIS overran much of the country's north last year.
Mosul was one of the first major cities to fall under the militants' black banner — and many of the Babylonian Brigades' fighters say they took up arms to reclaim it after being driven from their homes.
The militia was formed in late June 2014 — directly after the fall of Mosul — and first went into battle three months later at Camp Speicher, a former U.S. military base outside the city of Tikrit.
The memories of ISIS' arrival in Mosul — accompanied by bloodshed and a strict interpretation of Islamic law — are still fresh for many of the fighters in the Babylonian Brigades.
Maher Salwan Jerges said the horrors are what inspire him to fight through his fear.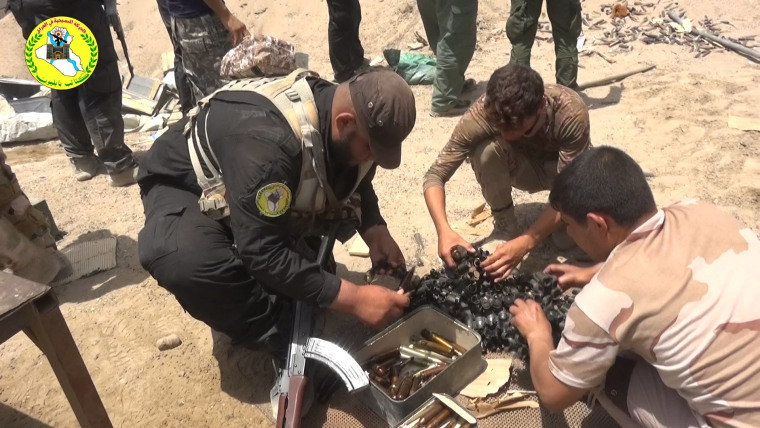 The 22-year-old told NBC that ISIS had targeted Christians in Mosul, seizing his family's property and possessions before running them out of town. His mother's cousin was killed for refusing to leave everything behind, Jerges said.
"Many women were raped by the terrorists and others were sold," he added. "All these are reasons drove me to volunteer and fight ISIS terrorists."
Yousef Hani Shamon's family also suffered under ISIS. They were ordered to pay a hefty tax levied on non-Muslims or leave Mosul — on foot.
"I found myself in a position to fight in order to restore what we lost," the 27-year-old told NBC News. "ISIS terrorists are our enemy. They targeted our religion and that is why I have to fight them."
"I will not stop fighting them until I die or defeat them," he added.