Prime Minister Haider al-Abadi said Sunday that Iraqi forces had begun a military campaign to retake the ISIS stronghold of Fallujah.
The offensive against the strategic city 41 miles west of Baghdad promises "a moment of great victory," Abadi said on state TV.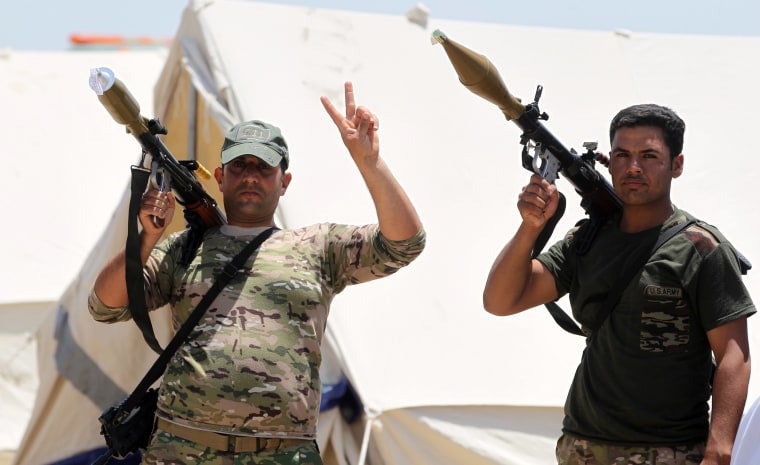 Iraq's Joint Operation Command confirmed to NBC News that the offensive had begun. A senior security official said on condition of anonymity that 20,000 federal police soldiers were in action, with 15,000 more troops expected.
Residents had been advised in a statement earlier to flee the city, but the number who managed to do so wasn't known, the official said. Reuters quoted residents as saying about 20 families tried to escape Saturday night but that only half made it. Some were killed by explosives; others were captured by ISIS, the residents told Reuters.
"Zero hour for the liberation of Fallujah has arrived," Abadi said on his official Twitter feed. "The moment of great victory has drawn near and Daesh has no choice but to flee." ("Daesh" is an Arabic acronym for ISIS.)
Related: Iraqi Forces Prep Offensive on ISIS-Held Fallujah, Tell Residents to Leave
Fallujah, a Sunni Muslim landmark in Iraq, was badly damaged in two offensives by U.S. forces against al-Qaeda insurgents in 2004.
Two years ago, when ISIS began its march across the country, Fallujah was the first city to fall, and it remains a "safe haven" for the group, U.S. Army Col. Steve Warren, a Baghdad-based military spokesman, said during a Defense Department briefing last week.
"They can construct their bombs and plan their operations in relatively close proximity to Baghdad," he said, adding that "finishing the clearance" of the entire province will aid in securing the country's capital.
Besides Fallujah, ISIS still controls vast stretches of territory and major cities like Mosul in the north, which authorities have pledged to retake this year.