Iraqi forces advanced into the center of Fallujah on Friday, liberating a majority of the city from ISIS and raising the national flag over a government building, according to Iraqi and U.S. officials.
Federal police commander General Ra'ed Shawkat told NBC News the forces faced little resistance because most of the ISIS militants had already fled to the north of the city.
He said the neighborhoods of Risala and Nazal were liberated by security forces and counter-terror forces and that the Iraqi flag was raised on the Fallujah local council headquarters.
And by evening, special forces commander Brig. Haider al-Obedi told the Associated Press that his troops controlled 80 percent of the city, with ISIS fighters now concentrated in four districts on its northern edge.
The advance was the latest development in an operation that began last month to retake the city from ISIS after almost two years under militant control.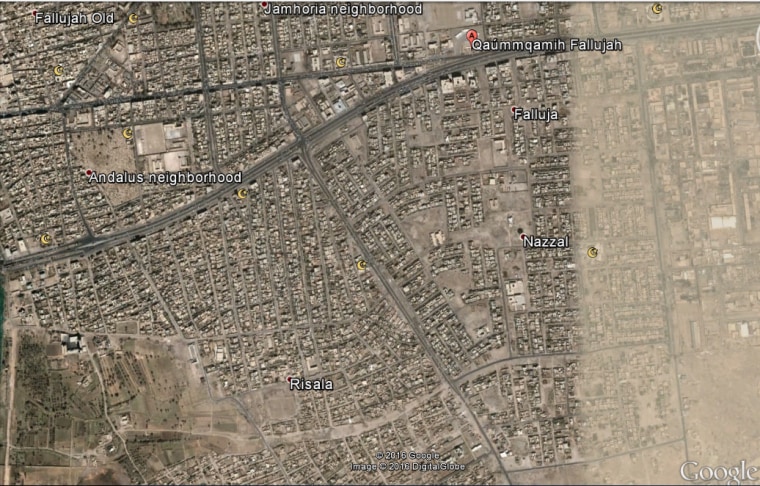 Senior U.S. Defense and military officials confirmed to NBC News that military forces had taken back the central headquarters, but cautioned that the fight to free Fallujah from ISIS is far from over.
The officials said they could not predict when ISIS would be completely driven from the city, partially because the militants have also wired the city with booby-traps and IED's, impeding any progress by ground forces.
Coalition forces also worry about conducting airstrikes in densely populated areas for fear of inflicting civilian casualties, the officials said.
Iraqi special forces commander Haidar al-Obeidi told The Associated Press that troops entered the city center around 6 a.m. (11 p.m. Thursday ET) with air support from the US-led coalition and Iraqi air force.
Related: Analysis: Fight for Fallujah Highlights Abadi's Political Battle
He said Iraqi forces were now clearing roadside bombs left in the area.
Friday evening, Iraqi Prime Minister Haider al-Abadi spoke on national TV from the joint command center, congratulating the troops on their victories. "We promised to liberate Fallujah, and it has returned to the embrace of the nation," he said.
"Iraqi forces are now in the center of the city. They had not been there since the beginning of 2014," al-Obeidi said.
ISIS fighters were still holding out in the nearby central hospital, al-Obeidi said. Throughout the day and into the night, Iraqi forces surrounded the hospital, clashing with snipers on adjacent buildings. But they were holding back from storming the building, fearing there were patients inside that the militants would use as human shields, he said.
Fallujah, which lies about 30 miles west of Baghdad, is a symbolically important city in the battle against ISIS. An estimated 30-40,000 civilians are believed to be trapped there, including many children.