BAGHDAD — Iraqi forces have begun the first phase of an operation to retake the northern city of Mosul from ISIS, military commanders and a senior security official said Thursday.
"This is the first phase of the operation called Al-Fatah [Conquest] to liberate Mosul," the senior security official told NBC News.
The Iraqi military's media arm announced the launch of Operation Conquest in a short statement reported by state TV.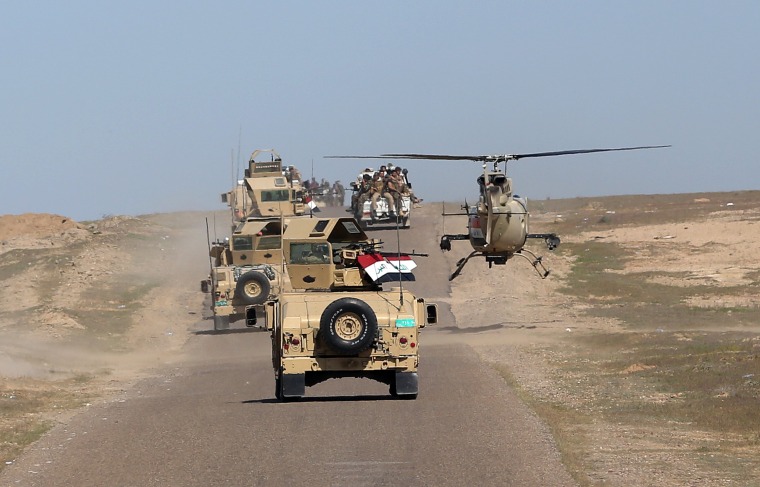 Iraqi troops supported by U.S.-led coalition warplanes had forced ISIS back from four villages in an area 22 miles south west of Mosul, according to the security official.
"ISIS militants use these areas to launch mortars and Katyusha rockets on the base where Iraqi troops are stationed," the official said.
"Iraqi forces will pause their advance for few days in order to strengthen their positions in these liberated areas."
Anthony Cordesman, the Burke Chair at the Strategy at the Center for Strategic and International Studies in Washington, D.C., cast doubt on the Iraqis' ability to retake the city.
"They don't have the capability," he told NBC News, adding: "This is an Iraqi government that is effectively bankrupt because of declining oil revenues and has deep internal political divisions.
"Unless ISIS virtually collapses, they are not going anywhere in a hurry."
Mosul was home to more than 1 million Iraqis at when the militants overran the city in June 2014, making it the largest city in ISIS-held territory and the militant's unofficial "capital" in Iraq.
ISIS leader Abu Bakr al Baghdadi was purportedly seen leading prayers in the city's Grand Mosque shortly after capturing it in 2014, according to footage released by the organization's media arm.
ISIS has lost nearly a quarter of its territory over the past 15 months, according to a new data from analysts HIS, in the latest sign that the militants' once rapid advance has slowed.