BAGHDAD — Iraqi forensic teams in the newly liberated city of Tikrit have started exhuming bodies from mass graves believed to contain hundreds of soldiers killed by ISIS last year, a government spokesman said Tuesday.
Kamil Amin, from Iraq's Human Rights Ministry, said the work started Monday on eight locations inside Tikrit's complex of presidential palaces.
"We expect to discover more mass graves in different areas," Amin told The Associated Press. "We expect a huge number of bodies to be unearthed."
ISIS militants overran Saddam Hussein's hometown last June, capturing around 1,700 soldiers as they were trying to flee Camp Speicher, an air base previously used by U.S. troops. Later, ISIS posted graphic images online that appeared to show its gunmen massacring scores of the soldiers.
After weeks of bitter clashes, Iraqi forces and allied Shiite militias backed by U.S.-led airstrikes succeeded in retaking Tikrit from ISIS.
Amin said that at least 12 bodies were exhumed Monday. Lab tests will be carried out to match them with DNA samples from victims' families. Iraqi state TV showed forensic teams digging in an open area, helped by bulldozers as relatives stood nearby. The bodies were tagged while weeping soldiers and relatives lit candles and laid flowers alongside the remains.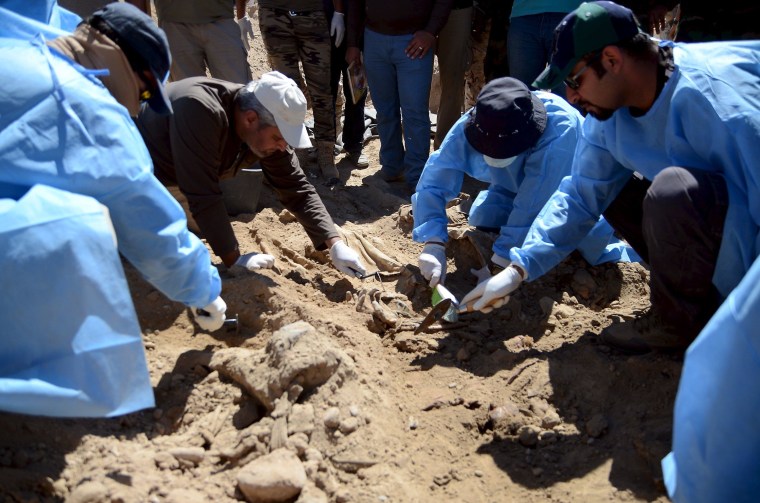 IN-DEPTH
— The Associated Press