Thousands of families are living in a "smoke-filled hell" in Iraq after ISIS set fire to oil wells and created a black cloud bigger than Los Angeles, a charity said Friday.
The extremists have torched more than a dozen wells near Mosul during their retreat into the city in the face of a massive U.S.-backed offensive.
The disruptive tactic mirrors that used by Saddam Hussein, whose forces torched oil wells to mask their retreat from Kuwait during the Gulf War in 1991.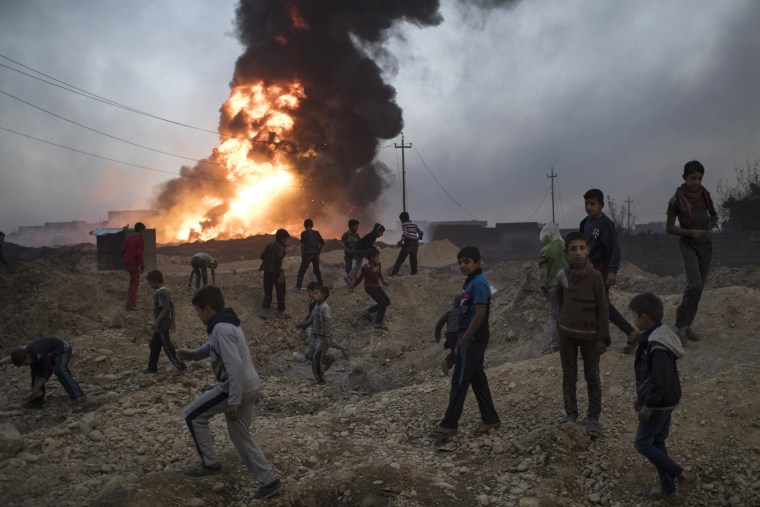 The fires lit by ISIS have produced thick black smoke that "blocks out the sun and turns children's faces grey with oily soot," Oxfam said in a report published
Iraqis living near the burning oil told the charity that the smoke has burned their throats and lungs and babies have difficulty breathing.
Compounding the problem, these people have hardly any access to clean water or medical services.
ISIS has also set fire to a sulfur plant, which NASA said was emitting "tremendous quantities of sulfur dioxide into the atmosphere" and has caused at least 1,000 people to be treated for breathing problems.
The main worry, according to Oxfam, is that the smoke from the oil wells will cause bronchitis among a population that has scant access to medicine.
"Even after ISIS has left, many of the people living amid its trail of destruction have told us that life remains unbearable," Andres Gonzalez, Oxfam's country director in Iraq, said in a statement. "Burning oil wells continue to spew out toxic fumes that burn people's throats and turn their communities into a smoke-filled hell."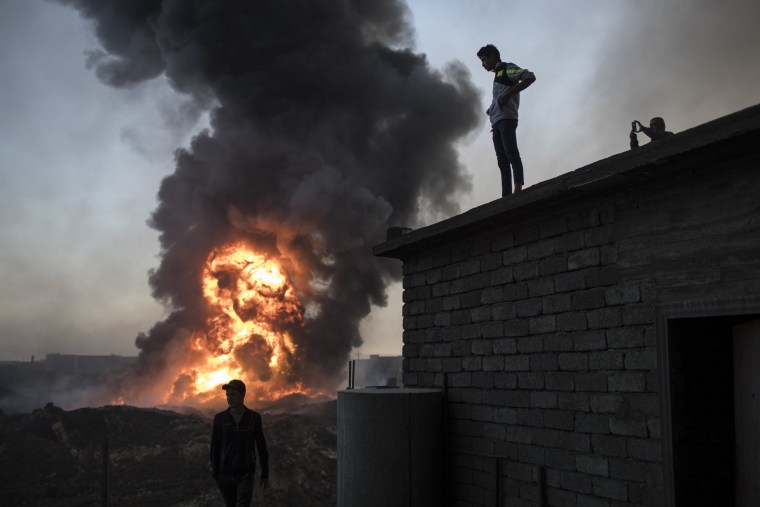 Oxfam has urged the Iraqi government to put out these fires and plan for further crises, given that six wells around Mosul are still under the extremists' control.
Iraqi special forces on Tuesday entered the outskirts of Mosul for the first time in two years, after the city was overrun by ISIS in 2014.
They have recaptured five neighborhoods, according to Iraqi officials, but face a potentially grueling battle against the extremists in a city that still houses up to 1 million civilians.