ISIS' capture of Palmyra put their city in the international spotlight, but left desperate residents there wondering if ancient statues are worth more than their lives.
The militants gained a strategic and cultural gem with Palmyra, valued for 2,000-year-old ruins deemed to be of "outstanding universal value" by the United Nations and for sitting at a key junction for transit to critical hubs.
International alarm was sounded when the militants — who have patented their proclivity for public beheadings and executions — overran the city. The urgent appeals to save the city's historic relics rang hollow to many in Palmyra.
The city's residents "believe that the international community cares about the stone statues much more than about us," Nasser Al-Saer, a member of the city's local community council told NBC News. "There is a general disappointment or a discontent by the people."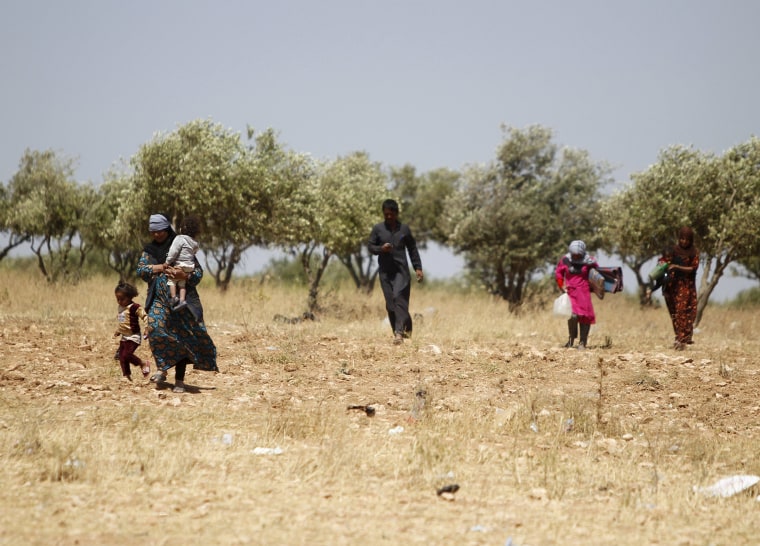 He said that with all attention on the ruins, some people "actually want ISIS to destroy the relics and museums in response to the silence of the international community about what is happening here."
While residents value the ancient site, Nasser Al-Saer said the community is facing more pressing problems, including shortages of food, water and medicines. Locals also are terrified by the airstrikes launched by forces loyal to Syrian President Bashar Assad, "which don't distinguish between civilians and ISIS."
"The future is unclear," he said. "People are afraid."
The arrival of ISIS meant the exit of Assad's forces — a welcome sight to some in the city who chafed under the Syrian regime. One Palmyra-based activist who uses the pseudonym Khaled Omran al-Homsi said "the fear has lessened from the hearts of the people in regards to politically motivated arrests and remnants of the regime."
Still, the veteran anti-Assad campaigner — who does not use his real name out of fear of reprisals — acknowledged the fear that now ISIS would begin "suppressing the community and brutally implementing their own rules."
The militant's brand of bloodshed already has been stamped on Palmyra. ISIS fighters executed 17 people — some by beheading — in their first day in control of the city and killed around 50 people around Palmyra in the run-up to the city's capture, according to the British-based Syrian Observatory for Human Rights monitoring group. Neither claim could not be independently verified by NBC News.
ISIS claimed it had seized control of Palmyra's notorious Tadmor Prison while driving out Assad's forces. One former prisoner who was once jailed in Tadmor told NBC News he was "delighted" to learn regime forces had left the city. Professor Baja Sarraj made clear he was "no friend of Assad" — describing regular beatings and torture at the regime-run prison over his 9-year incarceration there.
Still, he said it would be a "a weird argument to say ISIS are not as bad as Assad."
"The lesser of two evils is not fine," Sarraj said. "They are still evil."
Sarraj moved to Chicago after his 1995 release from Tadmor and became an immunology professor, but has remained in constant contact with those he left behind in Syria. Especially in light of what has happened in Palmyra.
"The people are suffering," he said. "I don't blame people for talking about ruins, but please talk about the lives too."