BAGHDAD — A car bomb ripped through a commercial area in Baghdad on Wednesday, killing at least 63 people in an attack that was swiftly claimed by ISIS.
Two other bombings in the Iraqi capital later killed 28 others, authorities said.
The initial blast occurred in a crowded outdoor market in the predominantly Shiite district of Sadr City and also wounded 85 people.
The Sunni extremist group — which sees Shiite Muslims as apostates — said it was behind that attack.
The SUV packed with explosives went off near a beauty salon in the market at rush hour. Many of the victims were women — including several brides-to-be who appeared to be getting ready for their weddings, hospital sources told Reuters. Wigs, shoes and children's toys were scattered on the ground outside the building.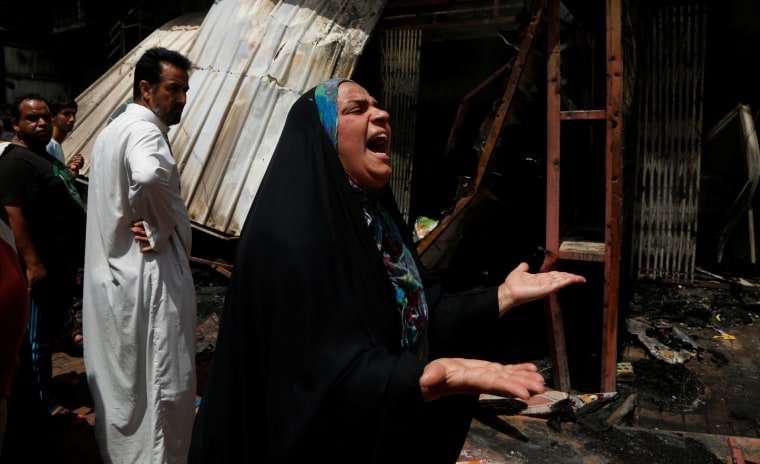 Karim Salih, a 45-year-old grocer, told The Associated Press that "a thunderous explosion ... jolted the ground." He suffered no injuries, but two of his workers were wounded.
A police officer later told NBC News that a second blast at a checkpoint in the Shiite area of Kadhimiyah in northern Baghdad killed at least 16 people and injured 41 others. ​A third explosion in a predominantly Sunni area in the west of the Iraqi capital killed 12 others and wounded 35, according to police.
The market where the initial attack occurred is one of the main four outdoor shopping venues in Sadr City, a sprawling slum that is home to about 2.5 million residents — almost half of Baghdad's population of around 6 million. It sells a range of goods, from food to household items, to clothes and other merchandise.
Speaking on condition of anonymity, medical officials told The Associated Press that 63 people had been killed there.
Sadr City is a stronghold of supporters of influential Shiite cleric Muqtada al-Sadr who have been holding protests and sit-ins for months to demand an overhaul of the political system put in place by the U.S. following the overthrow of Saddam Hussein in 2003.
In its online statement, ISIS said it had carried out a suicide attack that targeted a gathering of Shiite militiamen. The AP could not immediately verify the authenticity of the claim but it appeared on a website commonly used by the militants.
ISIS controls significant area in northern and western Iraq, including Iraq's second-largest city of Mosul.
The fight against ISIS has exacerbated a long-running sectarian conflict in Iraq, mostly between the Shiiite majority and the Sunni minority.
In February, ISIS carried out devastating back-to-back market bombings in Sadr City that claimed the lives of at least 73 people.
According to the United Nations, at least 741 Iraqis were killed in April due to ongoing violence. In March, at least 1,119 people were killed and 1,561 wounded.