The Islamist terror group ISIS claims it has beheaded one of two Japanese hostages, and is now demanding the release of a female prisoner held in Jordan or else it will murder the other captive.
A video released Saturday claimed that hostage Haruna Yukawa was killed after a ransom deadline had passed. The terror group on Tuesday demanded $200 million for the release of Yukawa and journalist Kenji Goto, and gave the Japanese government 72 hours to comply. Based on the time of the video's release, the deadline passed at 12:50 a.m. Friday E.T.
In the video released Saturday, fellow captive Kenji Goto is heard talking and is seen in a still image holding a photograph of a beheaded Yukawa. The Japanese government said it was aware of the video.
Japan's Prime Minister Shinzo Abe condemned the apparent execution, demanded Goto's release, and said the government would do its "utmost" to have Goto freed. He told Japanese broadcaster NHK that while the video has not been authenticated, "the probability of it being real [is] very high."
"Fully aware of unbearable pain and sorrow that his family must be feeling, I am simply left speechless," Abe said in a statement. "Such [an] act of terrorism is outrageous and impermissible, which causes me nothing but strong indignation. Thus I express resolute condemnation."
In the video, ISIS now demands the release of Sajida al-Rishawi, who is jailed in Jordan for taking part in a series of 2005 hotel bombings in Amman. Her belt of explosives failed to detonate. In the video, Goto is heard saying that his life would be spared if al-Rishawi is released.
President Barack Obama also expressed outrage over the apparent beheading. "We renew our call for the immediate release of Kenji Goto and all other remaining hostages," Obama said in a statement. "We stand shoulder to shoulder with our ally Japan and applaud its commitment to peace and development in a region far from its shores."
Abe said that while the government has been doing everything in its power to secure the release of the hostages, he vowed Saturday that "the Government of Japan will never give in to terrorism."
ISIS has previously executed American aid worker Abdul-Rahman Kassig, American journalists James Foley and Steven Sotloff, and British aid workers Alan Henning and David Haines. In each instance, the group announced the executions by releasing videos showing either the murders or their bodies.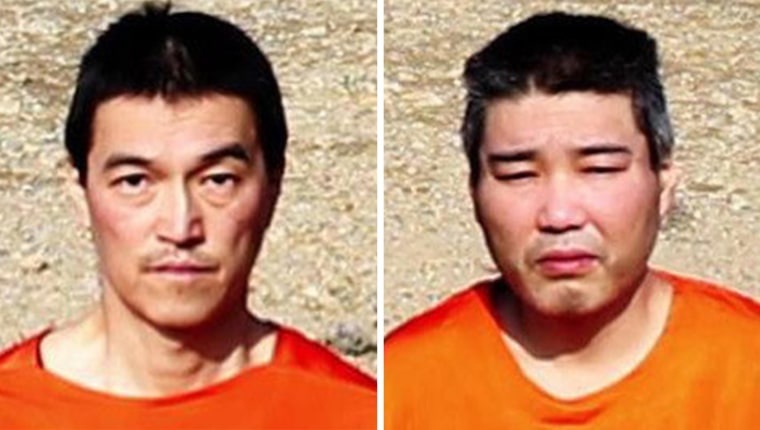 — With Arata Yamamoto