KABUL, Afghanistan — The spectacular ISIS-claimed attack on a military hospital in the Afghan capital captured the world's attention but the group is nowhere near as powerful as other terror networks in the region, experts say.
More than 30 people died Wednesday after terrorists disguised as doctors broke through the building's gates and gunned down patients and medical staff. More than 70 others were wounded.
The strike in one of Kabul's most secure neighborhoods set off clashes with Afghan forces that continued for hours, with some patients climbing out of the building and sheltering on window ledges.
ISIS said it was responsible for the attack in a tweet sent from an account they often use, although it offered no evidence to support the claim.
However, the hyper-violent terror group is "still a minor story" in Afghanistan, according to Vanda Felbab-Brown, a senior fellow at the Brookings Institution think tank.
"We still haven't heard a peep from the Trump administration for what its plans or ambitions or intentions are for Afghanistan"
Instead, the Taliban and the closely allied Haqqani Network are much more powerful and threatening to Afghanistan — as well as the West, experts say.
"While disturbing, [Wednesday's attack] should not be mistaken for the rise in ISIS," said Theo Farrell, a professor of war and Dean of Arts and Social Sciences at the University of London.
"All the evidence suggests that [ISIS has] been contained in Nangarhar," he said, referring to a province in the east of the country. "And while there are ISIS cells in other parts of Afghanistan, the country is very hostile ground for them."
The Taliban and the allied Haqqani Network are "a far far greater threat to the stability" of Afghanistan, according to Farrell.
With their much greater numbers and strength, the Taliban — which sheltered al Qaeda leader Osama bin Laden before the Sept. 11, 2001 attacks and was then toppled by U.S.-backed troops — and the Haqqanis still dominate the militant scene in Afghanistan.
Dubbed the "the Kennedys of the Taliban movement," the Pakistan-based Haqqanis are among the United States' most feared enemies in Afghanistan, often carrying out spectacular and bloody attacks on civilian as well as military targets.
While many fighters are disillusioned by the war and the Taliban leadership, according to Farrell, it is still by far the largest of some 20 militant groups to thought to be operating in Afghanistan.
These groups control or challenge government control in up to 35 percent of the country, according to the U.S. military. The Taliban is believed to have roughly 25,000 fighters, according to Foreign Policy.
This is not to say that ISIS doesn't pose a threat — it does. With some 700 fighters, according to NATO, they have claimed vicious attacks both in Afghanistan and neighboring Pakistan.
Early on, Afghan Taliban commanders and fighters disillusioned with their own leadership defected to ISIS, which has also teamed up with fighters in Pakistan, as well as militants from Chechnya and Uzbekistan.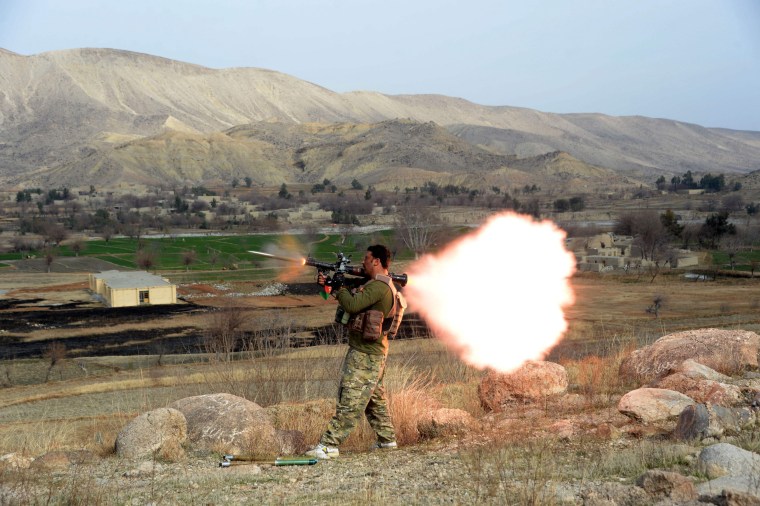 In October, the group cooperated with a radical organization called Lashkar-e-Jhangvi in an assault on a police academy in the Pakistani city of Quetta that left 63 people dead.
But the early pledges of allegiance have largely not born fruit for ISIS, which has been under siege from NATO, the Afghan military and the Taliban itself. Top Taliban officials have told NBC News that senior Afghan ISIS commanders and fighters have abandoned the extremist group amid reports it is too violent even for them.
And on Thursday, the Afghan government said it was still investigating whether ISIS was even involved in the hospital attack.
Defense Ministry spokesman Maj. Gen. Dawlat Waziri told NBC News that experts were scouring every inch of the Kabul hospital, which was badly damaged after the hours-long assault. Afghan authorities "must do our own investigations to know who is responsible," he said.
Interior Ministry spokesman Sediq Sediqqi was also waiting to decide whether ISIS was really behind the assault, using the term Daesh — another name for the group.
Sediqqi went on to raise the possibility that Pakistan-linked terrorists were responsible — a frequent claim made by some Afghan officials who have long blamed Pakistani military intelligence for sheltering and training terrorists who operate in Afghanistan. Pakistan has consistently refuted those claims.
The "reality is that we are facing terrorist networks that have has safe havens in Pakistan," he added.
"Unfortunately [Pakistan] has not taken any action against safe havens for terrorist networks such as the Taliban, Haqqanis and many others," Sediqqi told NBC News.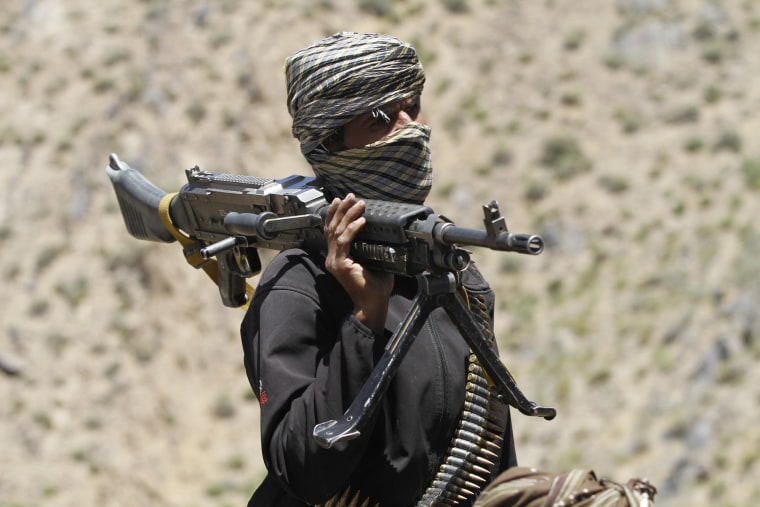 Whether or not ISIS was behind Wednesday's attack the fact remains that violence in Afghanistan is bad and getting much worse, according to Felbab-Brown.
Civilian deaths are hitting record numbers, threatening the gains made during America's longest war.
"The bigger story is the Taliban and even al Qaeda," said to Felbab-Brown, warning that if the Taliban controls large parts of Afghanistan it will be able to provide safe havens to terror groups who pose a real threat outside the country.
Felbab-Brown said the Trump White House needed to make clear its strategy in the country. While Wednesday's attack is "terrible in its humanitarian consequences," the real question hanging over Afghanistan is how powerful will the Taliban become.
"We still haven't heard a peep from the Trump administration for what its plans or ambitions or intentions are for Afghanistan," she said.
The new administration has not said whether it'll boost the number of U.S. fighters in Afghanistan — some 8,500 out of 13,000 NATO — which some military commanders have called for.
"This current levels he cannot break the stalemate," she said. "So far no word, no focus, no indication of any kind from the White House."