They tend to be young, male thrill junkies, craving purpose, glory, camaraderie and a fresh identity. They're apt to be narcissists without fans. They hunger for significance, even infamy.
Some barely understand the Islamic faith. And many are just plain bored.
That, in the simplest terms, is the psychological profile of Americans and other Westerners who seem most susceptible to radicalization from afar — via YouTube or other social media — by a terror group like ISIS, three leading experts assert.
Such traits often are found in the personalities of U.S. citizens lured by jihadist recruiters, including homegrown "lone wolves," and those who join Muslim extremists in battle. But the big problem with that psychological portrait: It fits tens of thousands of American 20-somethings who never think once about attacking their own countrymen.
"We've come to the rather uncomfortable view that there's something about an individual's unique psychology that makes them want to respond to circumstances in a violent way," said Jamie Bartlett, director of the center for the analysis of social media at Demos, a British think tank.
"But we're talking about a few hundred people, so it's hard to get good data," added Bartlett, who authored a 2010 study examining domestic Islamist terrorists. "Fifteen years after 9/11, we're still trying to understand what it is that drives some people to join these violent groups, and we still don't know precisely."
During the past two weeks, six Westerners — converts to radical Islam, or at least drawn to that movement — killed or injured fellow citizens in their homelands or were nabbed while traveling to join ISIS in Syria. Meanwhile, 11 Americans have been identified as already fighting with that terrorist group overseas.
Such incidents ultimately may help experts zero in on which Americans may be most susceptible to buying what ISIS or other terror groups are selling from across the planet.
"Some personality types are more prone to radical ideologies," said Arie Kruglanski, a psychology professor at the University of Maryland. He co-authored a study in January analyzing the phenomenon. "Radical ideology promises glory and significance, therefore, people who are more motivated toward glory and significance are more prone to accept those ideologies."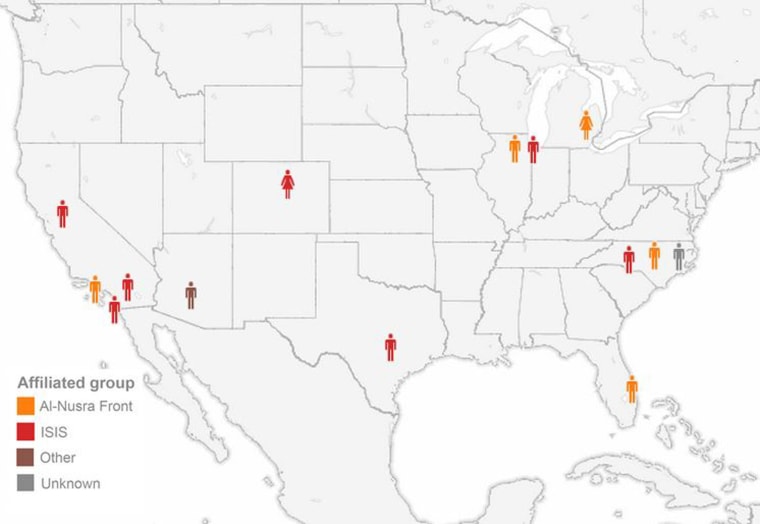 Click here to explore interactive map with details of the cases of the dozen U.S. residents — 11 of them Americans — accused of trying to join the fight in Iraq or Syria as well as the three Americans confirmed to have died in the fighting.
But one's environment, including stressful stretches, also may fuel latent rage — and trigger the desire to link up with foreign forces seeking to harm Westerners.
"For instance, humiliation and loss of significance induce a quest for significance, hence proneness to radical ideologies, an opportunity to gain significance … through fighting and violence against others," Kruglanski said.
The psychological path toward radicalization may be marked by sweeping beliefs like rabid, anti-government, anti-capitalism views. But those broad leanings tend to mask hidden, smaller reasons for such massive, mental transformations — like the notion, for some, that ISIS offers a chance to fulfill personal fantasies for adventure, or to create a new persona, said John Horgan, a criminology and justice professor at the University of Massachusetts Lowell.
Those sorts of temptations can be potent to restless people who tend to self identify as being trapped in uneventful lives, Horgan said.
"Never overlook the mundane. The ISIS adventure is the ultimate relief for boredom — and for those who feel ISIS offers them a chance to be something they'll never be if they remain here," Horgan said.
British researcher Bartlett said that in his study he discovered that radicalization often takes just weeks or months. Most experts had long believed such psychological shifts involved lengthy periods during which a person gained initial interest in Islam then beccame devout over several years until "at some point leaping into a violent interpretation of the religion."
In fact, many of the radicalized, Western converts studied by Bartlett had only a shallow understanding of Islam — didn't take time to consult religious scholars or read the Koran. They simply were smitten with the murderous acts carried out by far-flung terrorists in the name of that faith, he said.
Case in point: Two British men, both 22, who allegedly fought with jihadists in Syria for eight months. Before exiting England for the war, however, they had purchased the books "Islam for Dummies," and "Arabic for Dummies." They were arrested in January.
"Part of the appeal for many of these young men was that radical Islam ideology has an infamy about it that young men throughout the ages have searched for — whether to be part of gangs or radical anarchy or communism," Bartlett said.
"There's a certain thrill that comes with being part of those movements. This is an extremely important part of the appeal for al Qaeda, and ISIS is the same."