ERBIL, Iraq — ISIS militants are reportedly forcing civilians in their self-declared caliphate to relocate to Mosul, in what is likely preparation to use them as human shields ahead of a planned allied assault on the city.
Fighters for the extremist group are going door-to-door in towns and villages south of Iraq's second-largest city and threatening civilians with death or other punishments if they refuse to march north, Reuters and The Associated Press reported.
"[ISIS] took all of us from our homes at gunpoint and told us they were taking us with them to Mosul," Ahmed Bilal Harish told The Associated Press on Wednesday. "They said if you don't come with us you're an unbeliever."
Harish said he and his family fled the forced march north when an airstrike scattered the militants.
The hostages will join more than a million civilians who are already living in the city, which is by far the largest conurbation in the group's self-declared Islamic caliphate.
Such defensive preparations indicate that the group may be preparing for a deadly standoff in the city, all but dashing hopes that the terrorist group might retreat west to Syria and yield the city to Iraqi security forces and their international allies.
But some Iraqi police also fear that the civilians may offer cover for ISIS fighters until they see an opening to flee west.
"I'm afraid they will keep pulling [civilians] back from village to village until they get to Mosul. And then they will disappear," one Iraqi police officer told Reuters, asking that his name not be used for fear of reprisals against relatives.
The officer has yet to hear from his own family, who were also recently taken hostage by the militant group.
Iraqi and foreign military officials have been preparing for two years to retake Mosul in what many expect will be a decisive battle to oust ISIS from Iraq.
Iraqi Prime Minister Haider al-Abadi announced the beginning of the offensive early last week.
Iraqi security forces — a complex patchwork of armed outfits including Iraq's regular army, special forces, Sunni Muslim tribal fighters, federal police, Shiite Muslim militia groups and the U.S.-led international coalition — are optimistic that the city will eventually fall. But they are worried that a bloody, extended battle will only inflame further ethnic and sectarian tensions.
Related: Motley Crew of Anti-ISIS Forces Is 'Dangerous Cocktail'
ISIS' use of human shields, particularly civilians from among Iraq's Sunni minority, plays directly to such fears.
The strategy of placing civilians next to ISIS targets is one that the group has used to great effect during previous battles, particularly in western Anbar province, a Sunnni-majority region that Iraqi security forces are still struggling to subdue.
Those battles were fought primarily from the air. The U.S.-led coalition against ISIS destroyed much of Ramadi, Anbar's capital, in order to cleanse it of the extremist fighters while sparing Iraqi soldiers' lives.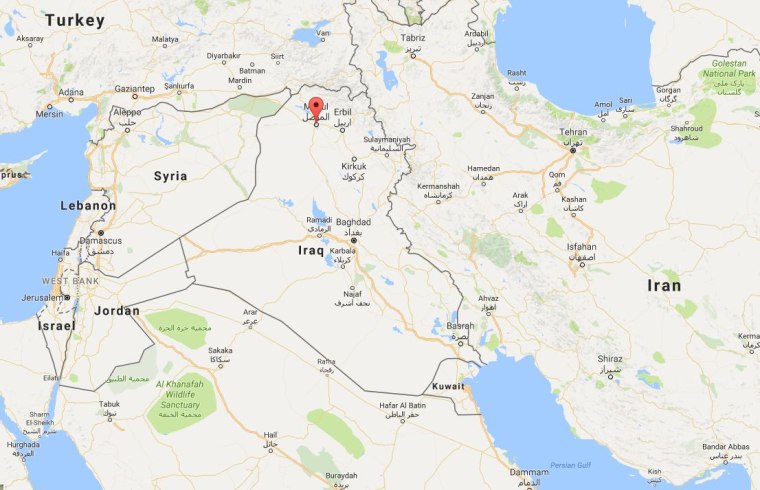 The presence of civilians delayed the aerial campaign, dragging out the fight for weeks.
As Iraqi security forces close in on Mosul proper, the United Nations and Iraqi officials are bracing for a massive outpouring of internally displaced people.
PHOTOS: Iraqi Families Flee Mosul as Army Battles ISIS
Some 10,500 people are currently displaced and in need of humanitarian assistance, according to the United Nations Office for Coordination of Humanitarian Affairs.
U.N. officials say they are struggling to construct housing for as many as a million displaced people before the fighting penetrates the city of Mosul in the coming weeks.