ISIS has released images that appear to show gay men being hurled off buildings and then stoned to death, part of the militants' self-professed mission to crack down on "sexual deviance."
The horrific execution tactic is the latest in a string of brutal punishment methods applied by ISIS under its strict interpretation of Islamic — or shariah — law, from crucifying Christians to stoning alleged adulterers to flogging young men for drinking.
ISIS featured a lengthy article in the latest version of its propaganda magazine Dabiq, released Thursday, on why it is "clamping down on sexual deviance."
The article blamed the advent of the sexual revolution for putting the West onto a "downward spiral" of immorality and said ISIS will continue its efforts to punish any transgressions.
"It's trying to shock and horrify"
The magazine came out just two days after ISIS released images purporting to show the execution of a gay man by stoning. In photographs released by ISIS supporters, masked fighters line up by a pile of rocks, and a blindfolded man is led by militants to his fate.
ISIS previously has opted to throw gay men off of towers — and stone them when they land. Two individuals were thrown off of the roof of a high building for the alleged "crime of homosexuality" in Mosul, according to a report released last month by ISIS on sentencing which was verified by Flashpoint Partners.
ISIS also suggested that its fighters executed a gay man in Raqqa last month, according to Flashpoint — a security firm and NBC News intelligence consultant.
In December, ISIS released images of its fighters throwing a man from the roof of a building and then stoned where he fell. It was unclear if the man had died immediately or if he was still alive when the stoning began, according to Flashpoint. His crime was allegedly engaging in a homosexual act.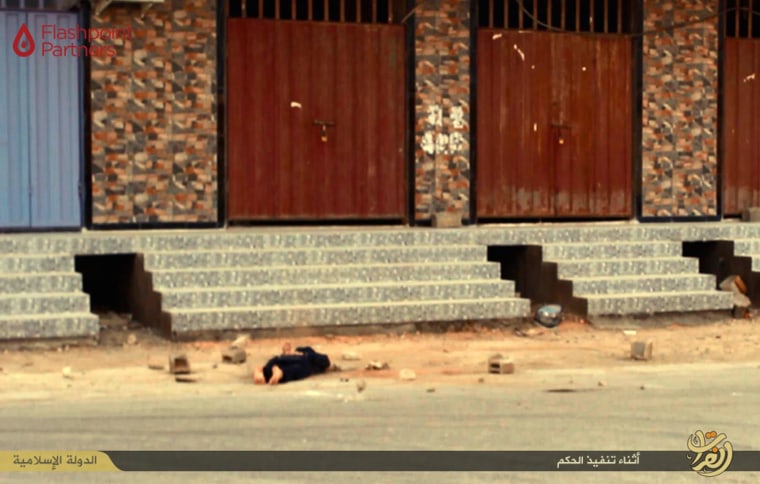 Although ISIS' doctrine has its roots in traditional hard-line Islamic law, punishing men accused of sodomy by throwing them from tall buildings was "very obscure," according to Charlie Winter, a researcher at the London-based Quilliam anti-extremism think tank.
Winter said the practice was "not a traditional form of punishment" among Islamists and "not something we have seen other jihadi groups perform"
"What ISIS is doing in displaying this kind of thing is twofold," he said. "It's trying to shock and horrify the rest of the world but it's also trying to give the impression that the shariah that it practices is the purest form of shariah."
NBC News' Alexander Smith contributed to this report.