A top ISIS commander known by his nickname Omar the Chechen — and recognized by his distinguishable red beard — is believed dead from a U.S. airstrike in Syria, a senior defense official told NBC News Tuesday.
The likely death of Omar al-Shishani near the town of Shaddadi — seized by Syrian rebels from ISIS last month — would be a key gain for coalition forces in taking out one of the biggest names on the U.S.'s terror hit list.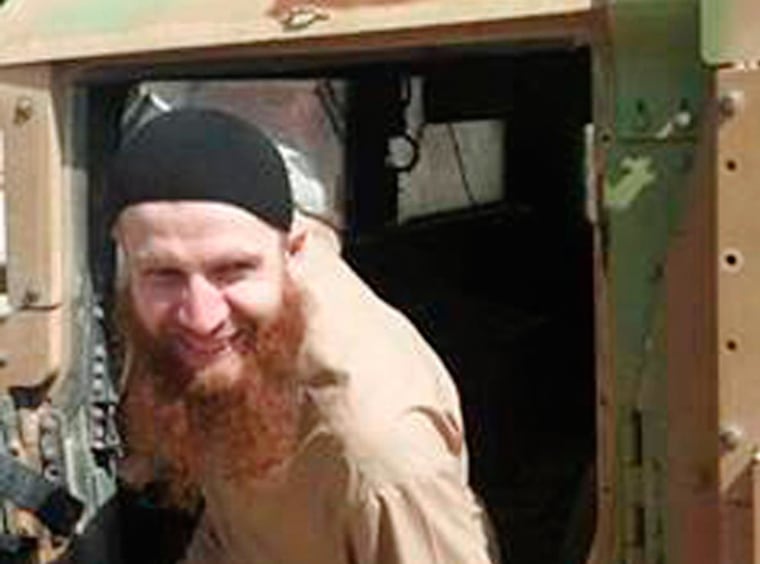 The senior defense official said al-Shishani, born in 1986, is believed to have died along with a dozen other ISIS fighters in the airstrike Friday.
Pentagon spokesman Peter Cook added that al-Shishani — originally named Tarkhan Tayumurazovich Batirashvili — was a Syrian-based Georgian national who held top ranks within ISIS, including minister of war.
Al-Shishani — who had a $5 million bounty on his head — had been in Shaddadi to help fighters "following a series of strategic defeats" to local forces supported by the United States. The Department of Defense is still assessing the results of this latest operation, Cook added.
Related: Rising Star of ISIS Has Chechen Background and Fierce Reputation
Al-Shishani was described by the Pentagon as a "battle-tested leader."
"His potential removal from the battlefield would negatively impact (the terror group's) ability to recruit foreign fighters — especially those from Chechnya and the Caucus regions — and degrade (ISIS's) ability to coordinate attacks and defense of its strongholds like Raqqah, Syria, and Mosul, Iraq," the Pentagon said.
Al-Shishani was a rising star within ISIS, and grew up in the Pankisi Gorge of Georgia, which is populated by ethnic Chechens and is considered "the Harvard of terrorist upbringing," according to analysts.
He fought for Georgia's military before contracting tuberculosis. In 2010, he was arrested for weapons possession and spent 16 months in jail. He later went to Syria to command forces fighting Syrian President Bashar Assad and rose the ranks of ISIS.
Unlike ISIS leader Abu Bakr al-Baghdadi, al-Shishani has not been afraid to show his face, appearing in videos calling for a united Islamic state.