The U.S. military said it killed 17 ISIS militants with six precision airstrikes in Libya, the first publicly announced American bombing in the country since President Donald Trump took office.
The attacks targeted a desert camp around 150 miles southeast of Sirte, a city held by ISIS until December.
"The camp was used by ISIS to move fighters in and out of the country, stockpile weapons and equipment, and to plot and conduct attacks," the U.S. military said in a statement.
The airstrikes occurred Friday but weren't announced until Sunday.
America's last known strike on Libya was Jan. 19, one day before Trump's inauguration. That attack was sanctioned by President Barack Obama. It also targeted ISIS camps southwest of Sirte and killed "several dozen" militants.
Libya has fallen into chaos since the U.S.-backed uprising that overthrew Moammar Gadhafi. Three rival governments currently lay claim to power, each of them backed by a complex web of rival militias and factions.
Friday's strikes were conducted in cooperation with the Government of National Accord, which is recognized by the United Nations.
Although ISIS' main power base has been in Iraq and Syria, it also flourished in Libya's statelessness and used the power vacuum as a safe heaven to attract and train recruits from across the region.
At their peak, 5,000 militants were believed to be in the country. In 2015, they seized Sirte, which was Gadhafi's hometown.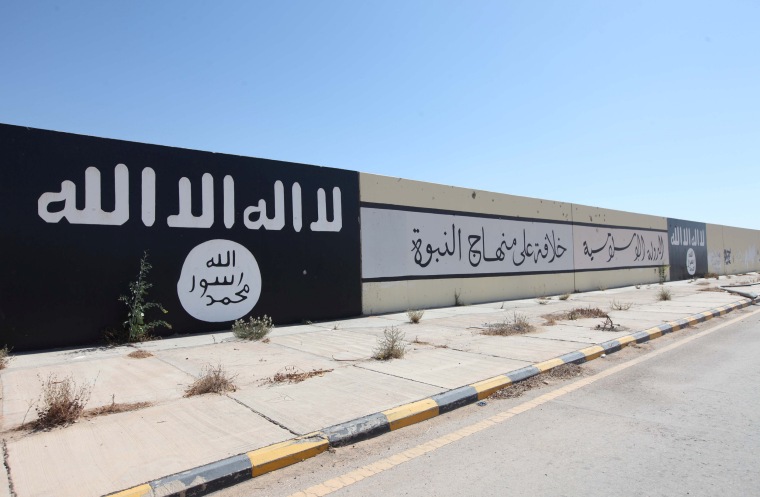 Aided by U.S. airstrikes, Libyan forces recaptured and liberated the city in December, pushing the militants out into the type of desert camps that the U.S. has subsequently bombed.
Several attacks — including the beheading of nine troops and two civilians in August — suggest the militants are growing in strength having switched from territory-based tactics to a violent insurgency.
"Now we are hearing reports of ISIS reappearing and resurfacing," said Tim Eaton, a research fellow at the London-based Chatham House think tank. "These airstrikes could be to do with the militants' increasing presence and the fears surrounding that."
It's not just Libyan security that worries the U.S. and others. Several terrorist plots and attacks, including the bombing that killed 22 people at an Ariana Grande concert in England this May, have been linked back to the North African country.
The Manchester-born bomber, Salman Abedi, was of Libyan descent, had traveled to the country, and his family had ties to an Islamist group fighting there.
"From an American point of view, Libya is all about the soft underbelly of Mediterranean security," said Jonathan Githens-Mazer, an associate professor at Britain's University of Exeter. "When we go back and start looking at some of these recent terror plots, a lot of them seem to have had some links to Libya."
After their defeat in Sirte, ISIS militants have shifted to desert valleys and inland hills southeast of Tripoli as they seek to exploit Libya's political divisions, according to Reuters.
The U.S. says Libya's chaotic state has proven fertile ground for plotting attacks.
"ISIS and al Qaeda have taken advantage of ungoverned spaces in Libya to establish sanctuaries for plotting, inspiring and directing terror attacks, recruiting and facilitating the movement of foreign terrorist fighters, and raising and moving funds to support their operations," the U.S. military said. "These terrorists have sought safe haven and freedom of movement in Libya to launch external terror attacks in neighboring countries, and their operatives in Libya have also been connected to multiple attacks across Europe."