CAIRO — Precious Syrian historical sites in ISIS-controlled territory are being looted "into oblivion," experts told NBC News amid reports the Sunni militants were closing in on more ancient treasures.
With fears mounting that Palmyra — home to monumental and significant ruins — would fall to ISIS, archaeologists and legal experts convened in Cairo for a conference on how to stem the destruction of the region's cultural heritage.
Syria is experiencing looting "on an industrial scale" in ISIS-controlled territory, according to Michael Danti, Boston University archaeology professor.
"They are really looting sites into oblivion," said Danti, who is co-director of the ASOR Syrian Heritage Initiative, a team of scholars documenting destruction of Syrian and Iraqi sites with the U.S. Department of State.
Danti's findings are based on high-resolution satellite imagery and information from experts and residents on the ground.
"The sites look like the surface of the moon... They're coming in with bulldozers and actually removing entire chunks of archaeological mounds," he said. "They take the antiquities out and use the soil as fertilizer or fill for new constructions."
He said the destruction benefits ISIS — which makes money from selling licenses, imposing taxes and taking a cut of looting profits. The tax — normally of around 20 percent — is based on Islamic jurisprudence, which deems treasures found in the ground and spoils of war to be taxable items, Danti explained.
The illicit sale of antiquities is ISIS' third-largest source of revenue, according to Danti's fellow conference attendee Matthew Bogdanos, an assistant district attorney in Manhattan who specializes in antiquities trafficking and terror financing.
ISIS has also raided and destroyed priceless antiquities in the parts of neighboring Iraq that it controls. In March it laid waste to the 3,000-year-old city of Nimrud and smashed relics in a museum in Mosul.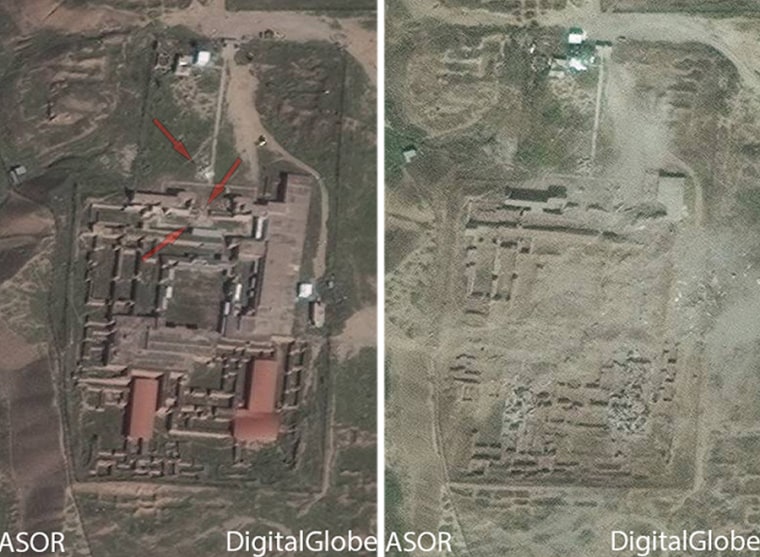 "We call this cultural cleansing because unfortunately, we see an acceleration of this destruction of heritage as deliberate warfare," UNESCO Director-General Irina Bokova told The Associated Press at the time.
Danti said that while sites in areas controlled by the regime of Syrian President Bashar Assad were also being looted and destroyed, the damage was dramatically worse in territory captured by ISIS. Twenty percent of the country's archaeological sites have been looted or destroyed to some extent, he said.
Some of the region's stolen heritage may eventually end up in the hands of U.S. citizens and museums, conference attendees warned. The U.S. is the world's biggest end purchaser of antiquities and has not, unlike Europe and Switzerland, enacted a ban on the the import of looted Syrian artifacts.
The warnings came amid reports that ISIS was advancing on the Syrian site of Palmyra, a UNESCO world heritages site and one of the most significant archaeological sites of the ancient world.
On Thursday, the country's antiquities chief Maamoun Abdulkarim said the fighting was about a mile the city and warned that if the militants seized the area they would "destroy everything that exists there."
UNESCO this week also expressed "deep concern" over the "imminent threat" to the site.
"The site has already suffered four years of conflict, it suffered from looting and represents an irreplaceable treasure for the Syrian people and for the world,"UNESCO's Director General Irina Bokova said in a statement. "I appeal to all parties to protect Palmyra and make every effort to prevent its destruction."
— Reuters and The Associated Press contributed to this report.