It All Began with a Phone Call
It was summer, and exams had just finished. The young man was on break. The voice on the other end of the line was familiar — a classmate from his medical school in Denmark. But the woman was panicked, and what she said jolted the young man. "If… you're my friend," the woman said, "then you need to help me now."
That, says the young man, is how it began. Weeks later, he would find himself caught up in the violent civil war in Syria, a prisoner of the world's most feared terror group. But, after a month in captivity, he made his way out.
Few people have ever been held by ISIS and lived to tell the tale. But this young man had already seen enough war to last a lifetime, and had learned to say -- and do -- whatever it took.
A Childhood "Full of War"
23-year-old Ahmad Rashidi went to Syria this summer to find two missing girls, Salma and Zahra Halane. The twin sisters, 16 years old, had left their home in Manchester, England, and snuck off to Syria to marry jihadist husbands. Their older sister, Rashidi's classmate, wanted the young man to find the girls, and bring them home.
Rashidi, a shy man with a coy smile, is possessed of enormous confidence. He is no stranger to war, and he reluctantly agreed. "My childhood was full of war and guns," Rashidi said in an exclusive interview with NBC News. "To run inside a civil war again," he said, "it was like deja vu."
Growing up in Afghanistan, Rashidi lost his father, his brother, and one of his own legs. He agreed to go to southern Turkey and, despite his prosthetic leg, make his way on foot into the ISIS-controlled warzone in northern Syria.
The Journey
Since the start of the war in Syria in 2011, Turkey's southern border has become more than just a frontier. It's a passage into a war, and the border cities have become swollen with aid groups and fighters, including members of ISIS.
This account of Rashidi's journey into Syria relies on an exclusive interview NBC News filmed with Rashidi earlier this month in Istanbul. Key details of Rashidi's journey were also independently verified by NBC News, which reached another party with knowledge of the events.
Rashidi arrived in July at the border city of Gaziantep, accompanying the twins' parents. There, Rashidi began asking around about two teenaged women. He spoke with members of the Syrian opposition — the so-called moderate fighters receiving aid from the US and other western countries. No one was able to say they knew of the women.
One night, Rashidi and the twins' mother snipped the metal border fence, and, taking cover behind a flock of sheep, they walked into Syria. "Every time we saw an Islamic State's office," Rashidi recalls, "we knock on the door."
It was a tremendously risky move. He and the woman made unlikely traveling companions, but Rashidi concluded the arrangement gave him cover. "In Islam you have some rights," Rashidi says. "And one of the rights is, as a mother, as a father, you have right to see your children."
They found the girls almost right away, in a small town in northern Syria called Manbij. At the house where one of the girls was living, Rashidi got into an argument with the woman's husband, a western ISIS fighter. Rashidi was accused of being a spy, or a journalist, and was arrested.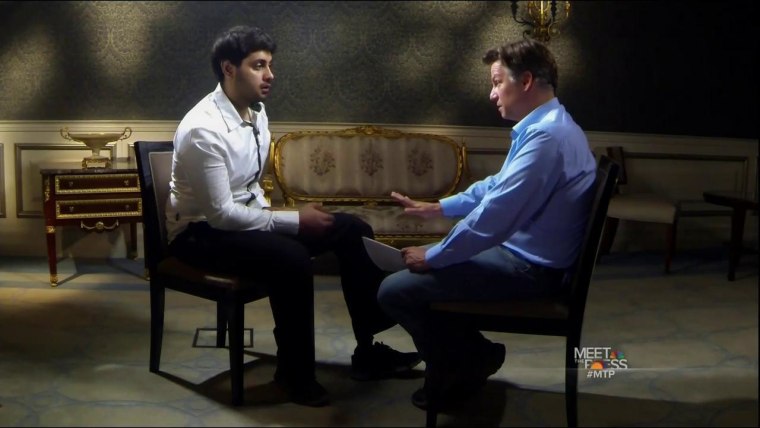 Prison
Rashidi's time in prison is a story of hard choices.
His accounting of the time is murky. He says he was tortured, though he would not offer details on what he endured. "The first one week, two week. It was brutal," he says. But, gradually, Rashidi says, he was able to charm his captors.
His situation almost immediately improved. Rashidi told the guards he wanted to join their cause. He said his father had been a jihadist in Afghanistan, and, most outrageously, he told his captors he was a doctor. Forced to perform a procedure at a local hospital, Rashidi improvised, setting a seven year-old girl's broken leg based on a YouTube video he had studied at school.
The test of his medical skills won him credibility, which Rashidi says he was forced to maintain by showing the guards he was one of them. Observing beatings of other prisoners, Rashidi joined in. "I may, may have beat one or two, but I was forced to do it," he says.
Mixing freely with guards, Rashidi observed ISIS members in daily communication with people in Europe. "They only use internet WiFi. And to talk through Viber or WhatsApp," Rashidi says, referring to popular mobile messaging apps.
Here are other things Rashidi said he observed first hand:
ISIS militants never used cell phones to make calls -- except when placing calls from Syria to neighboring Turkey. Otherwise, the militants used messaging apps to text with each other, Rashidi said.
Rashidi said he overheard the prison guards discussing launching attacks beyond Syria's borders. "They talk about America, Israel, Denmark, Britain, France," Rashidi told NBC News. But, pressed if he learned any more detail from the guards' discussions, Rashidi said no, insisting that he feared risking his credibility with the guards.
Rashidi said ISIS is proud of its notoriety. Asked if ISIS fighters seemed worried when the coalition bombing campaign began in September in Syria, Rashidi said no. "They were happy. They was waiting for that," Rashidi said.
Rashidi said that Manbij, the northern Syrian city where he served his prison time, is home to many European fighters. "It's not a Syrian city, actually. It's a European city," Rashidi said. Pressed on what languages he heard spoken there, Rashidi said English, German, and French. "You can hear English all the time," Rashidi said.
Rashidi said that among his ISIS prison guards, the guards who originated from Europe treated inmates more harshly than did guards from Middle Eastern countries. "They are full of hate," Rashidi said of the European fighters. "If you smell like [another] European, they're gonna kill you."
Rashidi is released
Rashidi's ordeal came to an end in September. He says he went before an ISIS court and, along with the twins' mother, was cleared of spying charges. He and the mother were released, though Rashidi's release, he says, was on the condition he stay in Syria and fight. But Rashidi ignored the warning — he snuck back into Turkey, and made his way home to Denmark, where he was interviewed over several days by security forces before being released.
At the court hearing, the sisters Rashidi had come to save testified against him, claiming he had come to kidnap them. The sisters remain in Syria.
Rashidi is now wanted by ISIS. He's writing a book about his four weeks as a captive.