LONDON — ISIS militants have released images that purportedly show the destruction of an ancient temple in the Syrian city of Palmyra — an act the U.N. condemned as a war crime.
The pictures were released Tuesday by the militant group's media office in Homs, according to security consulting firm and NBC News partner Flashpoint Intelligence.
The images appear to show militants carrying a barrel of explosives into the temple of Baal Shamin, which was destroyed on Sunday. Smaller cans connected by wire can be seen sitting on columns and next to walls.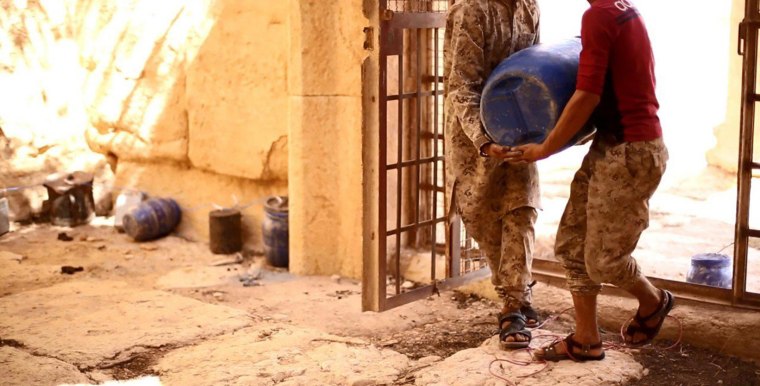 Another image shows a massive plume of smoke rising from the ancient structure, which was built nearly 2,000 years ago.
The temple's destruction comes a week after ISIS beheaded on of Syria's most prominent antiquities scholars.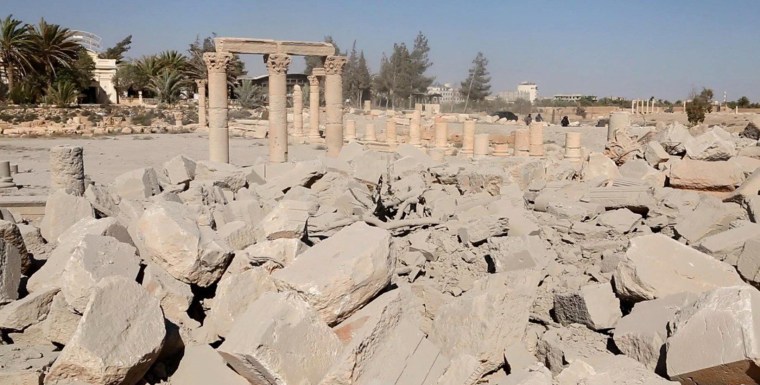 The director-general of the U.N.'s cultural agency UNESCO described the bombing as "an immense loss for the Syrian people and for humanity."
"The systematic destruction of cultural symbols embodying Syrian cultural diversity reveals the true intent of such attacks, which is to deprive the Syrian people of its knowledge, its identity and history," Irina Bokova said in a statement.