ISIS claims it has beheaded an alleged Russian spy in a killing at the hands of a Russian jihadi.
In a video released by the terror group Wednesday, a captive is seen kneeling in front of another man clutching a knife, according to Flashpoint Intelligence, a global security firm and NBC News consultant. The video is titled, "You Shall be Disappointed and Humiliated O Russians."
The prisoner identifies himself as Magomed Khasiyev and says he's a Russian national from the Chechen Republic.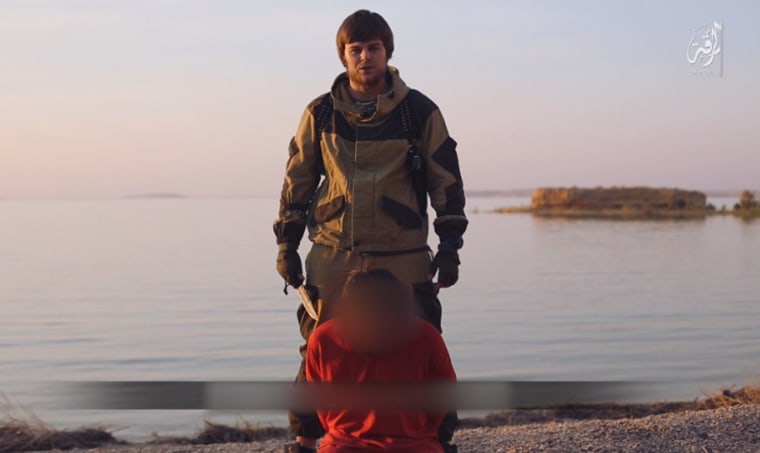 The captor, who is not masked, speaks in Russian before cutting the prisoner's throat.
The grisly execution would appear to be the first video of a Russian captive being beheaded, and comes on the heels of a Russian bombing campaign in Syria meant to root out ISIS. Russian President Vladimir Putin vowed to retaliate against the terrorists after they claimed responsibility for the downing of a commercial jetliner over Egypt on Oct. 31.
The executioner in the latest ISIS video says Russian airstrikes "have done nothing but kill peaceful Muslims."
The video also follows the likely death of ISIS terrorist Mohammed Emwazi, known as "Jihadi John" and previously seen in beheading videos of Western journalists and aid workers. He is believed to have been one of two people "incinerated" in a U.S. airstrike last month on the ISIS stronghold city of Raqqa.
The U.S. and France have stepped up anti-ISIS airstrikes as well after a series of attacks in Paris on Nov. 13 that claimed 130 lives. ISIS said it was responsible for the coordinated carnage.