ISIS fighters are using social media to show off what they claim is an underground tunnel network that enables them to withstand U.S. airstrikes near the Iraqi city of Fallujah.
A videotape posted Monday on YouTube by the Islamic terror group's official media arm shows a group of fighters, most of them wearing masks, digging and using the tunnels. On the tape, the fighters claim the passageways are used as "supply routes to all squads and HQs in the battle arenas," allowing the distribution of food and heavy weapons throughout the day.
One fighter says the tunnels are curved to lessen the chances that shrapnel will injure or kill numerous fighters in the event of a missile strike. "These trenches allowed us to give up our houses," the fighter says, adding that the tunnels are used as break rooms and bedrooms.
"The video … is an effort to portray a sense of resilience in the face of U.S. and coalition air strikes, which have impacted the tempo of the conflict inside Iraq," said Evan Kohlmann of Flashpoint Global Partners, which authenticated the videotape, and an NBC News terrorism analyst. "ISIS wants its supporters to know that even in the midst of American air superiority, it can nonetheless still operate and fight effectively on the battlefield."
U.S. officials familiar with the videotape could not verify that the tunnels were in Fallujah, but said they "wouldn't be surprised in the least if it was happening. "
Tunneling has been used as a tactic in Syria and Iraq to allow fighters to move around quickly and relatively safely," said one, speaking on condition of anonymity. "Moreover, there may well have been pre-existing tunnels in Fallujah that ISIL (another acronym for ISIS) could be using or expanding upon."
The U.S. and other allies have been pounding ISIS positions in Anbar province, including Fallujah, and elsewhere in Iraq and Syria from the air since August, and Iraqi troops have been shelling the group's positions in and around the city in hopes of retaking it.
Fallujah is best known to Americans as the scene of an extended battle between U.S. troops and Sunni Muslims in 2011 during the Iraq war.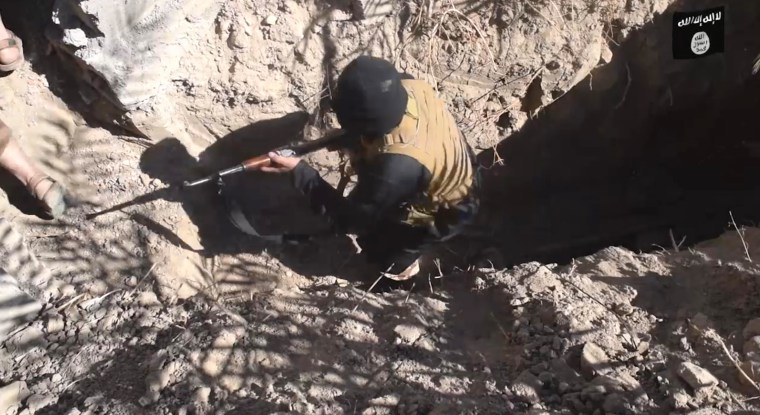 IN DEPTH
— Mike Brunker