ISIS is portraying itself as family friendly in new online recruitment efforts aimed at luring children and women, including spouses of prospective foreign fighters, to journey to the self-declared Islamic State caliphate, FBI Director James Comey said Monday.
Speaking at a terrorism conference at the Fordham Center on National Security in New York City, Comey said ISIS is "increasingly pushing for spouses to join ISIS" to establish family units headed by militants who "can put down roots in their caliphate" in Iraq and Syria.
He also noted that the terrorist group's sophisticated social media operations and other Internet sites -- now available in 23 languages – are increasingly aimed at attracting younger recruits, forcing the FBI to consider non-custodial alternatives to deal with juveniles who heed its clarion call. He declined to provide details on those alternatives.
Comey spoke as federal prosecutors revealed in Chicago that 19-year-old Muhammad Hamza Khan of Bolingbrook, Illinois, was accompanied by his 17-year-old sister and 16-year-old brother last month when he was arrested at O'Hare International Airport as he allegedly attempted to fly to Syria to join ISIS.
Khan has been charged with attempting to provide material support to a foreign terrorist group, but has not yet entered a plea. Neither of the younger teens have been charged, but Assistant U.S. Attorney Matt Hiller said at Monday's detention hearing that all three had engaged in "barbaric rhetoric" and intended to act on it.
Two weeks ago, three schoolgirls from Colorado -- two Somali-Americans and a Sudanese immigrant ranging in age from 15 to 17 -- were halted at the airport in Frankfurt, Germany, at the request of U.S. authorities. They, too, were on their way to Syria, where they planned to marry ISIS fighters, federal law enforcement officials tell NBC News. The trio, two of whom are sisters, were not charged but turned over to their parents, who had alerted federal agents to their travel.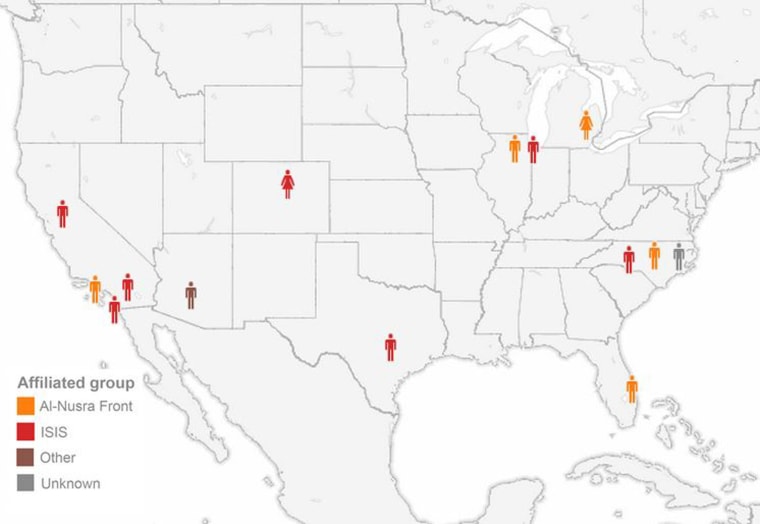 Click here to explore interactive map with details of the cases of the dozen U.S. residents -- 11 of them Americans -- accused of trying to join the fight in Iraq or Syria as well as the three Americans confirmed to have died in the fighting.
Federal law allows for the prosecution of minors as adults – in some cases as young as 13 -- if they are accused of a violent offense, using a firearm in committing a violent offense or felony drug trafficking or importation. But minors who do not meet those criteria – including the known cases involving minors intending to join ISIS – are only subject to a lesser charge of juvenile delinquency. If charged with that, they must be released from custody at age 18.
There have been other recent indications that ISIS is expanding its recruitment efforts beyond prospective male fighters.
Intelligence officials, speaking on condition of anonymity, tell NBC News that "dozens" of British women have joined ISIS in the last two years.
Meantime, the news website Vocative reported that ISIS had launched an online propaganda campaign specifically aimed at women last month. Called "al-Zawra," the campaign uses social media platforms and videos to disseminate a "how-to" of jihad for young women. Aside from offering pointers on such skills as cooking and sewing, the campaign aims to "to teach sisters software design and editing," and "the physical side and ... the use of weapons," it said.
Related
Teen Accused of Bid to Join ISIS To Remain in Custody
Foreign Fighters Pouring Into Syria Faster Than Ever, Say Officials
No LOL Matter: FBI Trolls Social Media for Would-Be Jihadis
And three months ago, ISIS released a recruiting video showing a young girl, flanked by two gun-toting adult male fighters. In it, the girl, who appears no older than 10, calls on children to join the group and fight against the enemies of Islam, including Shiites and Jews. The same video showed young boys involved in military training.
Comey said the new thrust of ISIS' recruitment efforts adds to the challenge of identifying potential jihadis and intercepting them before they can join the fray.
Follow NBC News Investigations on Twitter and Facebook.
"The challenge of the traveler phenomenon is there's no typical profile," he said at the Fordham event, noting that the FBI has charged individuals aged from 18 to 63. "As best we can determine, the common feature is they are troubled souls who are seeking some kind of meaning in their life. ... Finding a typical person, a physical being in which that troubled mind sits is actually something that's eluded us."
Pete Williams contributed to this report. Robert Windrem is a fellow at the Center for National Security.