ISIS militants have begun dismantling the ancient archaeological site of Hatra in northern Iraq in their ongoing effort to eliminate the region of what they consider idolatrous imagery, Iraqi authorities said Saturday.
The militants have destroyed parts of Hatra, about 70 miles south of Mosul, and started to pilfer antiques from the city, Qais Hussein Rashid, deputy minister of tourism and antiquities, told NBC News. He called the attack "a new crime against the Iraqi civilization and humanity in general."
The ancient city was classified as a World Heritage Site by The United Nations Educational, Scientific and Cultural Organization in 1985. Hatra, largely built in the 2nd century B.C., was the capital of the first Arab Kingdom and survived invasions by the Romans in 116 and 198 A.D. because of its thick walls surrounded by towers, according to UNESCO.
ISIS has embarked on a campaign to destroy relics and historical sites that they apparently view as heretical. Last week, the group released a video that showed militants purportedly using sledgehammers to smash ancient artifacts in northern Iraq. On Thursday, the Iraqi government said the group had "bulldozed" the city of Nimrud, a 13th century B.C. Assyrian archaeological site just south of Mosul. UNESCO called the destruction of the city a war crime.
"The world and international organizations should stand against such a brutal assault on the human heritage," Iraq's Ministry of Tourism and Antiquities said in a statement. "Otherwise," the ministry added, "these gangs will commit more crimes and violations against the civilization."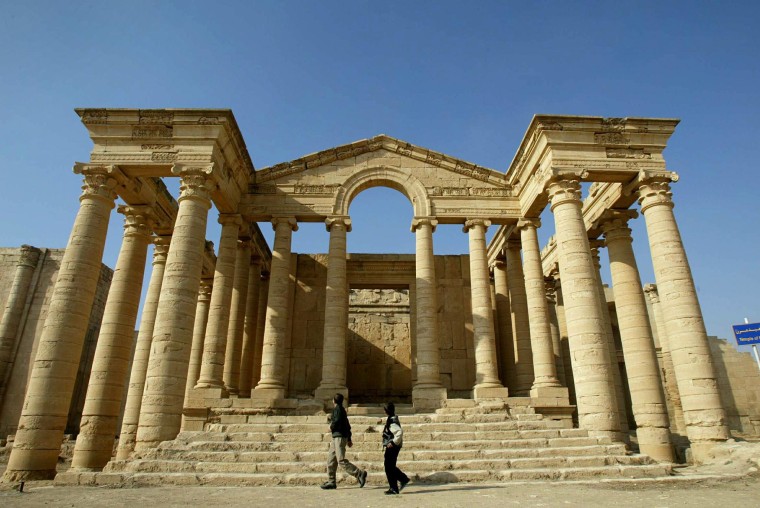 IN-DEPTH
SOCIAL
— Elisha Fieldstadt, with The Associated Press