ISIS on Tuesday claimed to execute an Israeli-Arab hostage the terror group had previously accused of being a spy.
In a video released by ISIS, Muhammed Musallam, while wearing an orange jumpsuit, says he was previously a firefighter and explains how it was that he came to become a spy for Israel. Musallam was a 19-year-old Israeli citizen from Jerusalem, according to NBC News consultant Flashpoint Intelligence.
The latter part of the nearly 14-minute video shows Musallam being led by a boy wearing an ISIS uniform — who appears to just be in his early teenage years — and a bearded French-speaking militant. The French speaker indicates that the young man will kill Musallam and threatens spies. He also praises the recent terrorist attacks in France.
Musallam is shot point blank in the head, apparently by the boy, who can be seen pointing the gun at Musallam before a close-up of the execution. He waves the gun in the air after four shots are fired.
The elaborately produced video then shows the names and personal information of a number of people, including Musallam's father and brother, accusing them of working as spies.
ISIS had accused Musallam of being a spy for Mossad, the national intelligence agency of Israel. But Musallam's parents denied that their son worked for the government, telling reporters in February that he had travelled to Turkey for vacation.
"My son went to Turkey for a vacation and he told me that he was kidnapped by IS (ISIS) in Syria and that's it," Musallam's father, Said Musallam, said. "He told me that he has been to many places in Syria and that he wants to come home ... He tried to come back but IS held him. Last time someone talked to me and said that my son was in an IS jail ... I never heard from him again."
On Wednesday after the video was released, Said Musallam told the Associated Press, "The Islamic State (ISIS) group is doing this because it has an objective: it wants to scare the Arab world and the entire world, as if no one can overpower it and how does it want to prove this? How does it want to send that picture to the world, to the entire world and the Arab world? The way is through Muhammed."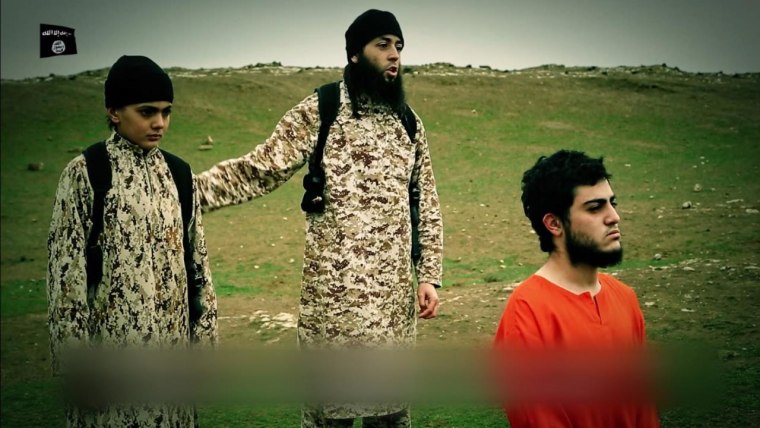 IN-DEPTH
— Elisha Fieldstadt