TEL AVIV — Israel's foreign minister has suggested that disloyal Arabs should be beheaded, drawing condemnation for invoking the grisly tactics of ISIS.
Foreign Minister Avigdor Lieberman — who heads the ultanationalist Yisrael Beiteinu party — told an event that Israel is "acting like fools ... soft and weak."
"Whoever is with us should get up to half the kingdom," he said. "Whoever is not with us we should take an axe and lower his head."
Lieberman frequently has been behind controversial policies including imposing a loyalty oath on Israel's Arab minority, and his comments Sunday drew swift condemnation.
MK Ahmad Tibi, an Arab politician and legislator, called Lieberman a "Jewish ISIS" and demanded a police investigation, according to Haaretz.
ISIS can't have been far from Lieberman's mind when he spoke at the "Voting Democracy 2015" event in Herzliya — shortly after he suggested beheadings for Arabs disloyal to Israel he said "the real threat is Da'esh and Hamas and their friends." Da'esh is another name for ISIS.
A spokesman for Lieberman's party said the comments were "made in the context of presenting the party's platform on the issue of instituting the death penalty for mass murderers and terrorists."
He added: "The foreign minister was paraphrasing [Zionist leader] Ze'ev Jabotinsky who said that we should be very generous to those who stand with you and cruel to those [who] physically stand against you … Thousands of terrorists with blood on their hands have been released over the last few years and there is a feeling that there needs to be a different approach to disincentivize murder and terrorism [by] our enemies."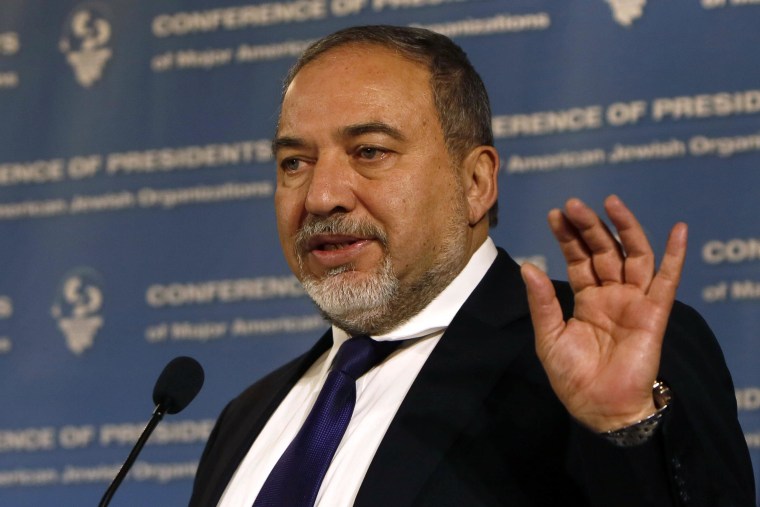 IN-DEPTH
— Paul Goldman