ISTANBUL — An ISIS suicide bomber killed 10 people and wounded 15 more Tuesday when he set off a deadly blast in the heart of Istanbul, Turkish officials said.
The attacker was a Syrian national in his late 20s and all his victims were foreigners, Turkish Prime Minister Ahmet Davutoğlu said.
Local media reported that the majority, if not all, of those killed in the explosion were German.
The German government would not confirm those reports but said their nationals were among those affected by the blast and the possibility of casualties could not be excluded.
"Today Istanbul was hit; Paris has been hit, Tunisia has been hit, Ankara has been hit before," German Chancellor Angela Merkel told a news conference. "International terrorism is once again showing its cruel and inhuman face today."
Ömer Taşpınar, a professor of National Security Strategy at the U.S. National War College in Washington, said Turkey's economy may have been a target.
"With tourism revenues affected, Turkey will pay a heavy financial price," he said.
Tuesday's explosion struck close to a monument called the German Fountain, between the Blue Mosque and the Haghia Sofia — the city's famous landmark-turned-museum and one of Istanbul's most popular tourist destinations.
Surrounding streets were closed by authorities in the aftermath and many shops and hotels appeared to have shut their doors. Armed officers and riot police guarded a wider perimeter.
The blast could be heard for miles across the city. After the explosion, there was a flood of activity on social media as worried people checked on the fates of their friends and loved ones.
Majd Egbareia, a 28-year-old nurse from Israel on vacation with his family, was praying in the nearby Blue Mosque when the blast shook the square.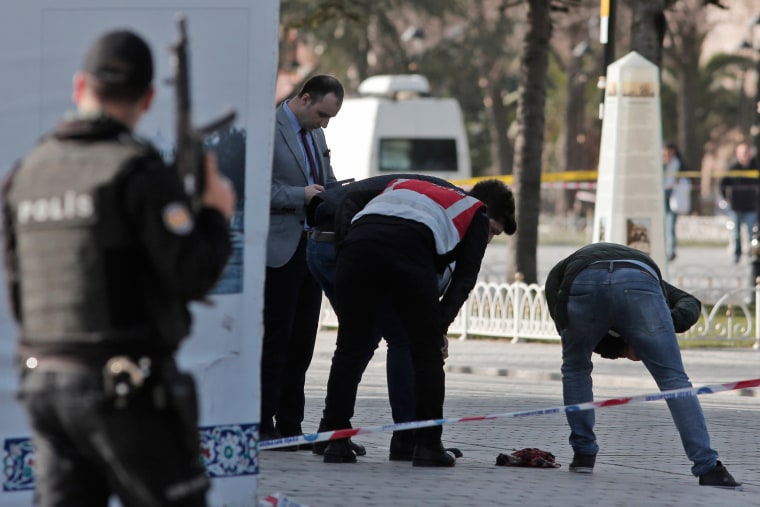 "It was one big blast, one massive blast … it sounded like something you only hear in the movies," Egbareia told NBC News.
He said he heard a woman screaming and ran to the door to see "three or four bodies" as well as the screaming woman, who was wounded, around 100 feet away.
News of Tuesday's deadly attack drew condemnation from the White House.
"This heinous attack occurred in Istanbul's historic heart, and struck Turks and foreign tourists alike," their statement read. "Our thoughts and prayers are with the families and loved ones of all those who have been killed and with those injured."
There was also harsh condemnation from the international community.
British Foreign Secretary Philip Hammond called the blast "shocking" and the European Union's migration commissioner Dimitris Avramopoulos tweeted to "deplore and condemn the attack."
Turkey's deputy prime minister, Numan Kurtulmus, said the bomber was not on the country's watch list of suspected militants.
The Turks are battling Kurdish militants and left-wing groups in addition to the threat of ISIS-linked extremists.
A double suicide bombing blamed on ISIS killed more than 100 people in the Turkish capital Ankara in October. Since then, Turkey has stepped up its efforts to tackle the militants.
Last month, Turkish officials reported they had detained two suspected ISIS militants and foiled a plot to bomb the New Year's Eve celebrations in Ankara.
Taspinar, who has studied ISIS and its strategic goals, said the attack could be very politically damaging for Turkish President Recep Tayyip Erdogan at a critically important time.
"Erdogan's strategy is to deflect attention to PKK, the real enemy he wants to fight," he said of the Kurdistan Workers' Party, which some governments, including Washington, have designated as a terrorist organization.
"He said this morning that Turkey is fighting terrorism on all fronts. But many in Turkey believe ISIS is a problem Erdogan made worse with his support for radical Islamists in Syria," Taspinar said.
"So there is a general tendency to blame him each time there is an ISIL attack. His fight against the PKK, on the other hand, has widespread support."