They are known as "the wannabes" -- a small group of mostly young Americans whose devotion to Islam calls them like a siren to two of the world's bloodiest military conflicts. But while their efforts to reach ISIS and other extremist groups in Syria and Iraq are often born of ignorance or naïveté, they pose a serious long-term threat, according to U.S. officials who are doing everything they can to stop their journeys before they begin.
At least seven Americans have been arrested in the last 15 months as they sought to travel to the region to join ISIS or other Islamist groups fighting the Syrian government, according to an NBC News analysis of data provided by the security firm Flashpoint Partners.
In recent months, most of the jihadi recruits have been trying to join ISIS, which became the pre-eminent Islamic extremist group in Syria this spring when it spilled southward into northern Iraq, seizing troves of weaponry abandoned by the U.S.-backed Iraqi army. In the past four months alone, five Americans have been arrested trying to join the barbaric group that has killed thousands of Syrians and Iraqis, made refugees of millions of others and, in recent weeks, beheaded two U.S. journalists.
An eighth American, Donald Morgan, was arrested in August as he returned from the region after an apparently unsuccessful bid to reach Syria.
Morgan, a convert to Islam, told NBC News this summer in an exclusive interview broadcast Wednesday that he underwent a dramatic religious transformation in 2012 that led him to declare his allegiance to ISIS leader Abu Bakr al-Baghdadi and to try to travel to Syria to join his Islamic army.
"It was… right before Ramadan that my life changed. And what changed that was me making the decision to practice what I preach," said Morgan, who made it as far as Turkey before being detained at the Istanbul airport.
EXCLUSIVE: American Extremist Reveals His Quest to Join ISIS
In addition, law enforcement officials tell NBC News, there are at least two federal grand juries, in Minnesota and Florida, investigating Americans believed to have joined terrorist groups in Syria.
Michael Leiter, the former director of the National Counterterrorism Center and now an NBC News analyst, says U.S. officials are right to be concerned about the long-term threat posed by wannabe jihadis, especially those who make it to the battlefield.
"From a U.S. counterterrorism perspective, nothing is more important -- and often more difficult -- than identifying U.S. citizens who fight and train in Syria," he said. "In many cases, U.S. citizens fighting overseas have become operatives or key operational planners and leaders in terror groups. Because of this, the U.S. intelligence community is laser-focused on knowing the who, when, where and why of U.S. citizens -- and Westerners more broadly -- who are in Syria today."
U.S. officials do not know precisely how many U.S. citizens have joined the fight, which has metastasized from a Syrian civil war into an attempt by ISIS to establish a caliphate stretching 400 miles from Raqaa in Syria to the suburbs of the Iraqi capital of Baghdad.
The U.S. estimates that between 70 and 100 Americans have gone to fight in Syria for all factions, with roughly a dozen fighting there at any given time. Most are drawn to radical Islamic factions like ISIS and the al Qaeda-linked al-Nusra Front, but some have joined more-moderate Islamic groups fighting under the umbrella of the U.S.-backed Free Syrian Army.
"In general, we have found that Western fighters, not just those from the U.S., are joining the biggest game in town and the biggest game in town is ISIS."
A Pentagon official told NBC News last month that only a "small handful" are fighting with ISIS. Since then, however, at least two Americans fighting for ISIS were killed in battles with rival factions of the Syrian opposition.
"It stands to reason that one or some of those Americans who have gone to Syria may have linked up with ISIS," one senior U.S. intelligence official said at the time. "… In general, we have found that Western fighters, not just those from the U.S., are joining the biggest game in town and the biggest game in town is ISIS."
Alex Kassirer, a researcher at Flashpoint who has tracked the arrests, says that few of the Westerners known to have made it to the battlefield have sided with the U.S.-backed Free Syrian Army (FSA).
She pointed to the cases of Obaida Hitto, a 27-year-old American of Syrian descent from Murphy, Texas, who documented the FSA's battles for five months before being wounded by mortar fire, and Eric Harroun, a Muslim convert and former U.S. Army private from Arizona who fought with the FSA before joining the al-Nusra Front – inadvertently, he said.
Hitto, who was not charged with any crime, vowed to return to the fighting in an interview with National Public Radio in October 2012 and his current whereabouts are unknown.
Harroun returned to the U.S. in March 2013, and was charged with using a weapon of mass destruction. He later pleaded guilty to a lesser charge after serving several months in prison and, shortly after his release, died suddenly of a possible drug overdose at the age of 31.
The recruits tend to share certain characteristics: At least three of the eight arrested since June 1, 2013, were converts to Islam; though their ages ranged from 19 to 44, most fell on the younger end of the spectrum; many were aimless "young men without hope" before being radicalized, as National Counterterrorism Center Director Matthew G. Olsen put it at a news conference Wednesday; others had troubled pasts, including run-ins with the law.
The arrests illustrate the premium that U.S. authorities are placing on stopping the wannabes before they reach the battlefield: Six were grabbed at airports, one at a bus station and another at Canadian border crossing. Only one -- Morgan of Landis, North Carolina -- was arrested on a return trip, picked up at John F. Kennedy International Airport in New York upon his return from the Middle East. He is currently being held without bail after pleading not guilty to a charge of being a felon in possession of a firearm.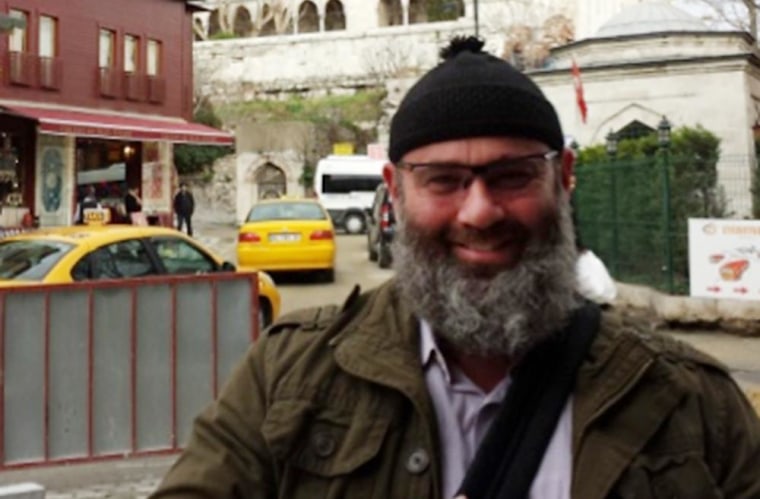 According to court records, three of the eight planned to join the al-Nusra Front, while the other five were planning to join ISIS.
Charges against the suspects have ranged from supporting terrorism to parole violations to making a false statement on a passport application.
Among those arrested for allegedly trying to wage jihad in Syria is Shannon Maureen Conley, 19, an accused ISIS recruit who also is the only woman apprehended. Conley, a nurse's aide, told the FBI after her April 8 arrest at Denver International Airport that she intended to live with an ISIS soldier from Tunisia she met online, participate in attacks (using her training as a U.S. Army Explorer) and put her medical expertise to work,according to court documents. Conley had entered a not guilty plea, but a plea agreement is expected to be announced on Sept. 10, according to documents filed with the court last week.
Related
Foley, Sotloff Videos Not Shot at Same Time, U.S. Officials Say
Bounty Biz: Rewards for Terrorists and Local Crooks Can Pay Off
American Suicide Bomber Says He Was Watched by FBI, Inspired by Awlaki
Nicholas Teausant, a 20-year-old California man who is charged with providing material support to a terrorist group, specifically ISIS, was grabbed off an Amtrak Bus on March 14 as it neared the border into Canada. Teausant, who has pleaded not guilty to the charge, told the Sacramento Bee last week that he was set up by an FBI informant who suggested that he join ISIS and, he claims, promised to fly him to Syria.
Karen Greenberg, director of the Fordham University Center on Security, says that informants are increasingly being used by the FBI, raising concerns about entrapment similar to those that have been brought forth in some domestic terrorism cases.
Follow NBC News Investigations on Twitter and Facebook.
"This is the preventive strategy, this is what it looks like," she told NBC News when Teausant was arrested in March. "Over time, the suspect's acts turn out to be more and more remote from acts of violence themselves, and more like potential beginning steps in a direction that might or might not someday take the suspect in the direction of jihadi violence."
FBI Director James Comey himself referred last month to the fine line that agents must walk in determining when discussion shifts from free speech to conspiracy.
"This is a great country with lots of traditions of protecting mouth-running," he said in Dallas. "We should continue that. But those who are inclined to cross the line, I've got to focus on them."