LONDON – Masked executioner Jihadi John, the global face of ISIS, was a sports-obsessed 10-year-old who liked British soccer team Manchester United, PlayStation game Duke Nukem and listening to teen pop bands.
Mohammed Emwazi, who has beheaded Western hostages including Americans James Foley and Stephen Sotloff, wrote about his childhood dreams in an elementary school yearbook.
The 26-year-old London-raised college graduate was unmasked Thursday as the mystery figure who has appeared in ISIS propaganda videos.
"What I want to be when I grow up is a footballer," the future murderer wrote in the St Mary Magdalene Church of England Primary School yearbook dating to 1998.
Asked where he thought he would be when he was 30, Emwazi added: "I will be in a football team and scoring a goal."
The Kuwait-born killer was also a fan of 1990s British teen pop group S Club 7, and listed "The Simpsons," french fries and the book "How to Kill A Monster" among his favorites. His star sign is Leo.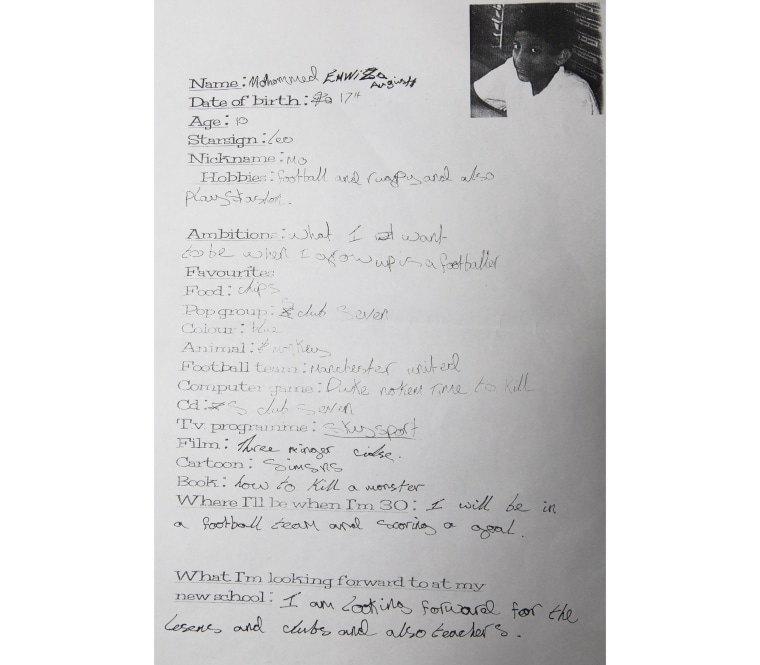 One of Emwazi's former teachers described him as a "diligent, hardworking, lovely young man" who was responsible, polite and quiet.
"There was never any indication of any kind of violence at all," said the teacher, who spoke anonymously to NBC News' partner Channel 4.
Emwazi, who went on to complete a college degree in computer studies, was known to British intelligence agencies and was suspected of links to Somali terror group al-Shabab.
He was repeatedly questioned by security services but managed to travel to Syria in 2012 where he later joined ISIS and became the face of its grisly hostage videos.