Suspected ISIS killer Jihadi John is linked to a gang that carried out violent street robberies in London to pay for terrorists to travel abroad — including a high school contemporary who died fighting with al Qaeda in Syria.
Mohammed Emwazi, himself once accused of petty crimes, grew up in the west London district of Ladbroke Grove which has contributed more than its fair share to the ranks of global terrorists.
Intelligence services believe he was part of a network of supporters of terrorism, including a senior al Shabab figure Bilal Berjawi.
A friend of Emwazi told NBC News that the ISIS figurehead was also associated with a trio of armed muggers who stalked victims on bicycles in London's affluent Belgravia district.
The three threatened victims with a Taser-style high-voltage stun gun and forced them to hand over watches and cell phones. One of the gang, Choukri Ellekhlifi, 22, was killed in 2013 fighting alongside al Qaeda in Syria while his co-accused were jailed.
Ellekhlifi, who attended the same school as Emwazi, was one of four people in Emwazi's sphere of influence to die overseas in the name of Islam: his friend Mohammed el-Araj, from Ladbroke Grove district, was killed fighting alongside rebels in Syria in 2013 while another schoolfriend's older brother, Mohammed Sakr, was killed fighting for al Shabab in Somalia in 2012. Berjawi was killed by a U.S. drone in Somalia in 2012.
Duncan Gardham, NBC News security analyst, said: "Friends have told me that Emwazi and Ellekhlifi were associates in London and it seems highly likely that they fought together after joining ISIS in late 2012 and early 2013.
"It is inevitable that the death of Ellekhlifi and another friend, Mohammed el-Araj, in Syria in the summer of 2013 had an effect on Emwazi and accelerated the move from the small time crook with religious tendencies he had been in London to a bloodthirsty killer and religious fanatic."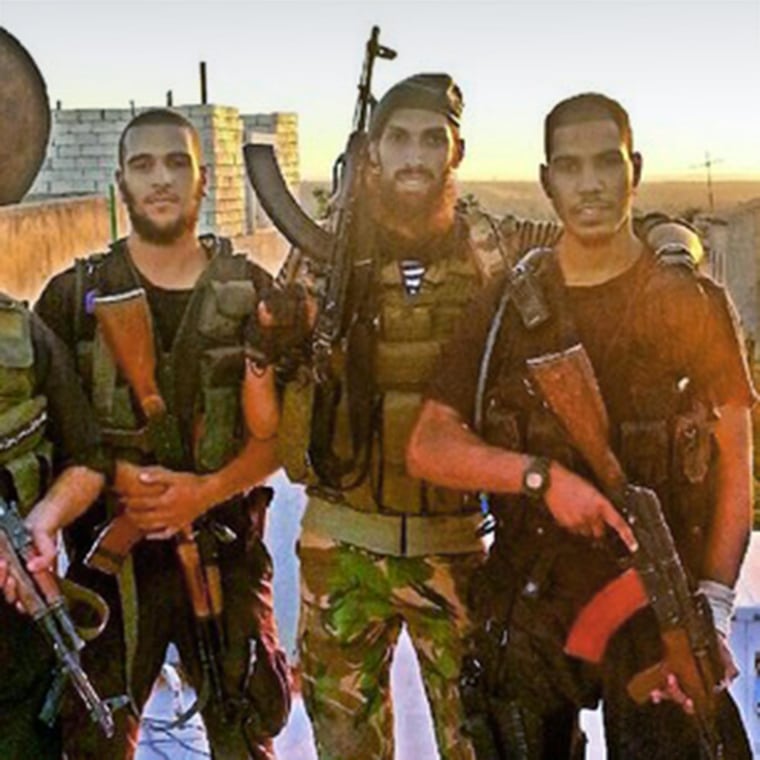 Emwazi, who was twice charged with handling stolen goods in 2011 but acquitted on both occasions, has been described by school teachers and a former employer and quiet and hard-working, achieving the necessary grades to attend college.
However, experts and investigators believe his upbringing in Ladbroke Grove took him close to the fringes of society and put him in contact with others who had succumbed to the allure of radical Islam.
Emwazi complained to U.K. rights group in 2010 that he was being persecuted by intelligence agencies who repeatedly detained him after he traveled to Africa, claiming to be on a safari.
"It's very clear he's been involved in extremist circles for a very, very long time, so his harassment by security services was really a consequence, it was not the cause of his radicalization," said Peter Neumann, director of the International Centre for the Study of Radicalisation at King's College, London.
"I think he had connections that went very deep and very wide."
"I think he had connections that went very deep and very wide and he would have associated with a lot of extremist people over a very long period of time, so he's not someone who was radicalized only because of the Syria conflict, he'd been part of the London scene for years before that,"
Neumann added that Emwazi was likely to appear in future ISIS videos despite being identified.
"It's almost certain that ISIS will try to exploit this … and that he will again make an appearance because it's part of the theatre and drama that ISIS is very well known for and they're exploiting these publicity opportunities wherever they can find them."