Secretary of State John Kerry said Thursday that ISIS has been committing genocide against religious minorities in the Middle East — just the second time the executive branch has used the term in relation to an ongoing conflict.
The formal designation comes days after the House passed a nonbinding resolution by a 393-0 vote condemning ISIS atrocities as genocide.
"Daesh is genocidal by self proclamation, by ideology and by actions," Kerry said in a televised address, using another name for the Sunni militant group. "We must recognize what Daesh is doing to its victims."
"Naming these crimes is important but what is essential is to stop them," he added.
Related: One Yazidi's Battle to Chronicle the Death of a People
He enumerated a list of atrocities against Shiite Muslims, Christians and Yazidis at the hands of the Sunni extremists that led to the designation.
"Daesh is also responsible for crimes against humanity and ethnic cleansing directed at these same groups and in some cases also against Sunni Muslims, Kurds, and other minorities," Kerry said, noting that it was impossible to know the full scale of the extremists' atrocities.
Kerry took care to highlight the plight of the Yazidis, a Kurdish minority ISIS branded as devil worshipers and who have been killed and starved by the thousands.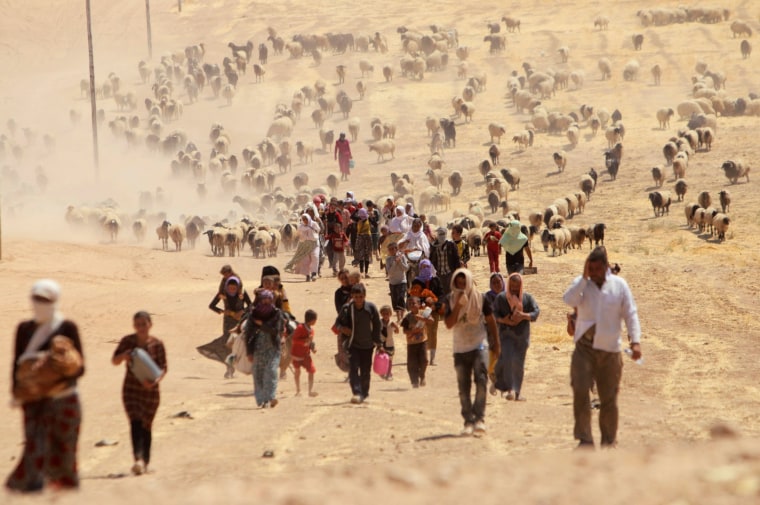 Many were saved with the help of the U.S. but "not before Daesh captured and enslaved thousands of Yazidi women and girls, selling them at auction, raping them at will, and destroying the communities in which they had lived for countless generations," the secretary of state said.
Kerry also gave examples of Shiites and Christians being slaughtered, forced to flee their homes and compelled to convert to ISIS' extreme version of Sunni Islam.
Christian groups had heaped pressure on lawmakers to ensure ISIS actions against members of the religion were included in any consideration of genocide.
Related: Yazidi Women Tell of Rape, Enslavement at Hands of ISIS
The Obama administration had come under pressure for its reluctance to use the term genocide, which is strictly defined under international law.
Kerry's announcement came after Congress demanded the State Department determine if ISIS atrocities constituted a genocide.
Fireworks erupted at a House Foreign Affairs Committee hearing last month when lawmakers grilled Kerry over why the State Department had not yet branded ISIS massacres of Christians a genocide.
"The whole world knows Christians are being slaughtered in the Middle East," Rep. Dana Rohrabacher, a California Republican and frequent critic of the Obama Administration, said at the hearing.
Congress had set a March 17 deadline for the State Department to issue its findings. The State Department had said Wednesday it would not meet the deadline, though Kerry on Thursday said he had judged that a genocide was in fact taking place.
"One element of genocide is the intent to destroy an ethnic or religious group, in whole or in part," Kerry said. "The fact is that Daesh kills Christians because they are Christians; Yezidis because they are Yezidis; Shia because they are Shia... Its entire worldview is based on eliminating those who do not subscribe to its perverse ideology. "
While the move was welcomed by religious groups, the decision applying to the group's treatment of ethnic and religious minorities in areas it controls in Syria and Iraq is laden with ethical and legal questions.
A key issue facing the administration is whether it will be obligated to take action to stop the genocide.
State Department spokesman Mark Toner previously had said a genocide determination in ISIS' case "would not necessarily result in any particular legal obligation for the United States."
Related: Meet the Woman Fighting to Save Her People From ISIS
Although the U.S. is already involved in military strikes against ISIS and has helped halt episodes of ethnic cleansing, some experts argue that the determination would require more actions by the U.S.
At least, a determination would probably be accompanied by a referral to the Security Council for possible prosecution by either the International Criminal Court or some other tribunal that might be set up specifically for Syria and Iraq.
Kerry stressed Thursday he was "neither judge, nor prosecutor, nor jury" — but that the distinction needed to be made to reassure ISIS victims that the U.S. "recognizes and confirms the despicable nature of the crimes that have been committed against them."
The first genocide designation during a time of war was in 2004, when Secretary of State Colin Powell determined that atrocities being committed in Sudan's Darfur region constituted genocide.
In 1994, President Bill Clinton rejected requests to categorize the mass murder, rape and displacement of Rwandan Tutsis at the hands of Hutus in a genocide. Hundreds of thousands were killed in Rwanda as the world looked on.
It wasn't until Dec. 23, 2003 that the violence was designated a genocide such by the United Nations.