KABUL, Afghanistan — Thousands of angry protesters attempted to enter Afghanistan's presidential compound as a march over the brutal murders of seven minority Hazaras briefly turned violent.
Presidential palace guards fired in the air in an attempt to block protesters from entering the palace. Police told NBC News that two people had been injured, but Afghanistan's TOLO News reported eight people were wounded.
The protesters were demanding government action to halt sectarian violence following the beheadings of seven Hazaras by suspected ISIS-linked militants.
Broadcasts on Afghan TV showed protesters clambering on top of the walls of the compound and security forces with riot shields moving into position. Local broadcaster Ariana News later said Afghan police forces had cut its live feed from the scene.
The protest ramped up after the bodies of victims — three women, a child and four men — were carried through the streets of Kabul by thousands of angry demonstrators on Wednesday calling for justice and bearing grisly images of the dead.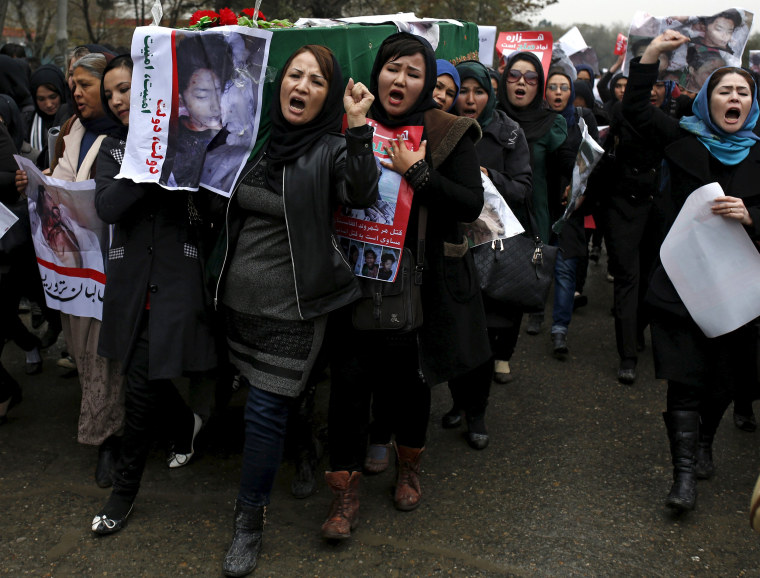 Schoolteacher Shima Rezaee was among the women helping carry the coffin of slain 9-year-old Shukria.
"My heart is crying today," she said. "I have a 9-year-old daughter myself and I can feel the pain ... We will not let the coffins down and will not bury them until the government listens to our cries for justice."
As she spoke, chants of "We are all Shukria" and "death to terror" filled the air.
Related: Beheadings Raise Specter of ISIS in Afghanistan
Nasser Abdali, a 21-year-old Pashtun student, said he came to show solidarity with his Hazara, Tajik and Uzbek countrymen on a "sad day" for Afghanistan.
"We are all Afghans," Abdali said. "We say 'no' to terrorism and barbarism and demand the government to bring the killers to justice."
Fellow student Kamela echoed those sentiments, saying "we are all here — Hazara, Pashtun, Tajik, Uzbek — to demand justice."
GALLERY: Afghans Fill Streets to Protest Beheadings
"We will not go back to those days," she added, referring to the Taliban era. Hazaras were oppressed and massacred by the Taliban government before it was toppled by U.S.-backed forces in 2001.
Many of the protesters dispersed after the presidential guards fired in the air. Some were allowed into the presidential compound with the victims' coffins. President Ashraf Ghani also invited representatives of the protesters in to join a meeting of the National Security Council.
Popular Hazara Gen. Murad Ali Murad addressed the crowd via loudspeaker, vowing to stand with them and saying he would pass on their message to Ghani.