Federal prosecutors on Wednesday opened their case against three Minneapolis men accused of plotting to help ISIS, a trial that could offer a rare look at how impressionable young Americans succumb to the the terror group's appeal.
The defendants, from the city's large Somali community, are among dozens of native-born Americans who have been charged with supporting ISIS, a fraction of whom have taken their cases to trial. Six other connected to the Minneapolis case have already pleaded guilty, and one reportedly fled the United States and made it to Syria, where many Western recruits aspire to join the fight against Bashar Assad's regime.
Related: ISIS Wannabes: Inside the Minds of Jihadis Born in the USA
The men on trial — Mohammed Farah, Abdirahman Daud and Guled Omar, all in their early 20s — say they are innocent of charges they conspired to provide material support to ISIS and commit murder abroad. During jury selection this week, some family members complained the defendants were not getting a fair trial, according to NBC affiliate KARE. One tried to have his lawyer removed, but the judge would not let that happen.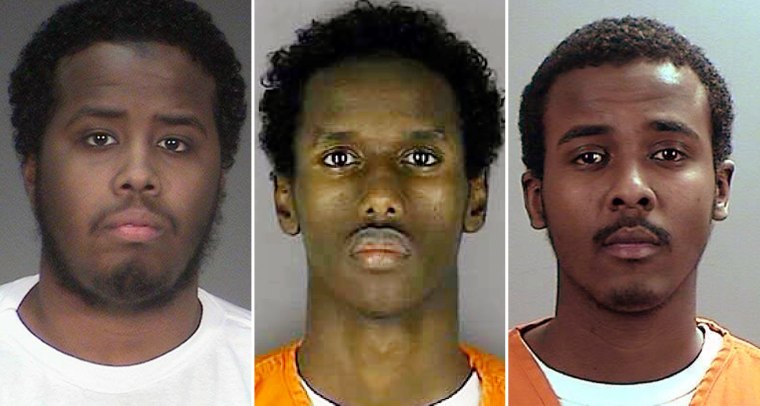 Opening statements began Wednesday, with the government going first. The trial, expected to last about a month, is expected to reveal some of the motivations and recruitment techniques behind one of the most troubling aspects of ISIS' rise as a global terror threat: the growing list of Americans who seek to join or act on its behalf.
A 2015 study of those arrested for supporting ISIS found that they tend to be young, American-born and drawn more to the idea of an Islamic caliphate than a desire to commit terrorist acts in the United States. The study, by Fordham Law School's Center on National Security, also found that the government relies on undercover agents, informants and confidential sources to build cases against them.
Related: ISIS Enticement: Why Are Some Americans Prone to Radicalization?
Much of those efforts involve following potential recruits on social media, where ISIS wields powerful influence.
Minnesota's Somali communities are one of the centers of such activity, authorities say. It echoes a similar case that unfolded six years ago, when several Somali-American men were charged with trying to help the terror group al-Shabab.
But critics in those communities argue that the government is targeting naive and disillusioned young men who know little about the world outside their hometowns.
The three men on trial in Minneapolis were arrested a year ago, along with other alleged co-conspirators, some of whom were friends, following a 10-month federal investigation that authorities said revealed the men's plans to travel to Syria. Farad and Daud were taken into custody in San Diego, California, where they had driven from Minneapolis, authorities said.
Prosecutors identified one man, Abdi Nur, who made it to Syria and tried to recruit young Minnesotans to join him. They also allege that the defendants were inspired by another Minnesotan, Hanad Mohallim, who traveled to Syria and is believed to have been killed in an airstrike.
The judge overseeing the Minnesota case, U.S. District Judge Michael J. Davis, who is presiding over the Minneapolis case, created a "de-radicalization" program and offered spots to four of the defendants who have pleaded guilty.