U.S. counterterrorism officials are increasingly concerned that the Islamic State is growing in popularity far beyond its self-proclaimed caliphate in Syria and Iraq, with its philosophy "metastasizing" thousands of miles across the Muslim world, from West Africa to Central Asia.
A number of smaller jihadi groups announced their affiliation with ISIS last fall, but there was no immediate uptick in terrorist incidents.
Then in March, ISIS claimed responsibility for an attack on the Bardo Museum in Tunisia, and the tempo of violence has dramatically increased in the last week.
Officials point to a recent attacks far from Syria for which ISIS has claimed responsibility:
On Friday, Saudi Arabia claimed ISIS was plotting up to seven car bombings in Riyadh based on evidence found on the cellphone of one suspect, who was arrested after he allegedly killed two police officers at a checkpoint.
On Monday, ISIS' media arm released a video showing operatives executing two groups of prisoners, all Ethiopian Christians, in Libya — one by beheading, the other by firing squad. The two events, confirmed by Ethiopia's official state media, took place hundreds of miles apart, suggesting that the group is operating throughout the war-torn North African state.
Last Saturday, ISIS claimed credit for a suicide bombing outside the New Kabul Bank in Jalalabad, Afghanistan, that killed 34 and wounded more than 100.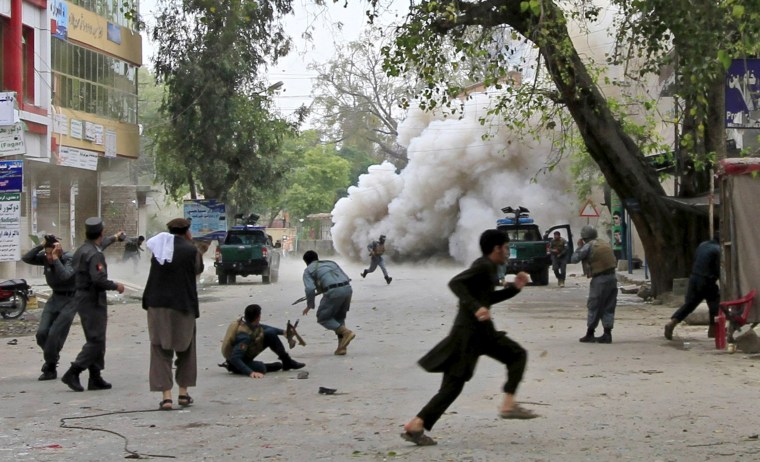 "ISIS has metastasized," said one U.S. official, citing the recent incidents and declarations of loyalty by jihadists in Nigeria, Egypt, Pakistan, Libya and Afghanistan. A second official, however, said it remains unclear if the those far-flung jihadis are lone actors or speaking for organizations.
The U.S. also has seen indications that ISIS and Boko Haram, which declared its own caliphate in Nigeria, are cooperating to a greater extent than initially thought. Until recently, the affiliation was one-sided, with Boko pledging allegiance and ISIS barely acknowledging it.
"It does seem like they are working together," said the first official. "It is progressing, the story is evolving. You saw the social media, saw them pledge allegiance. What we would expect next is exchanging personnel."
U.S. law enforcement authorities have been arresting U.S. citizens who want to travel to the caliphate, which stretches 400 miles on either side of the Syria-Iraq border, territory encompassing more than 6.5 million people.
In the last year, according to a study by Fordham Law School's Center on National Security, 39 U.S. citizens have been stopped at airports, bus stations and elsewhere and charged with offering to help ISIS.
Eight Americans have been arrested in the last week alone, and there have been similar arrests of suspected ISIS wannabes in Morocco, Belgium, France and Spain in recent months.
While the U.S. is concerned about an estimated 180 U.S. citizens who have traveled to fight with ISIS on the battlefields of the Middle East, many more have come from countries like Morocco.
Morocco, which has seen more than 1,000 of its citizens travel to Syria, arrested 13 men two weeks ago, claiming they were a terrorist cell bent on carrying out attacks.
Karen Greenberg, director of the Fordham Center, said the appeal is the same for all ISIS recruits, regardless of origin.
"It's religion, but it's broader than just the religion itself. It's wanting to share in a culture in which that religion is central," Greenberg said. "That is a place for them to go that will provide a religious homeland for them, and that they will be able to serve it in a number of capacities."
Hooshang Amirahmadi, a Rutgers University professor and Middle East expert sees ISIS as a "cancerous political virus rather than a serious military force."
"It will spread anywhere in the world where downtrodden or humiliated Muslims live," he said. "While it can and will be defeated militarily, even then it will not disappear. It will just re-emerge in different forms."
Laith Alkhouri of Flashpoint Intelligence agreed that the concept of the caliphate, with its romanticized vision of an Islamic utopia, is the big lure.
"Once ISIS captured territory and applied its form of governance, it appealed to the greater audience who are not just looking to battle Crusader forces but who also see the group as a legitimate, holistic Islamic government that transcends beyond borders, in multiple ways and languages," said Alkhouri.
A U.S. intelligence official said ISIS is now pushing out messages in 23 languages, and its use of social media appeals to a "younger demographic."
This week, the ISIS media office in Raqqa, Syria, even released a video touting the group's medical services, the Islamic State Health Service.
"Its PR machine has been able to bring its victories and territorial control to the global audience in a flowery manner — showing the group providing social services, construction projects, medical services, food markets and many other services that appeal to their audience," Alkhouri said. "Portraying itself as a young Islamic government that stood up to the regional and world powers added a cover of legitimacy."