The United States had "pretty good intelligence" that Russia intended to intervene militarily in Syria before President Barack Obama met with Russian President Vladimir Putin, Obama said in an interview broadcast Sunday.
Critics have accused Obama of having ceded American leadership to Putin by having failed to prevent Russia from launching airstrikes there on Sept. 30.
Russia says the airstrikes are part of a campaign to wipe out ISIS, but U.S. officials have accused Putin of using them to prop up Syrian President Bashar al-Assad, whom the United States is seeking to oust. Some critics, including several Republican presidential candidates, have suggested that the Obama administration was taken by surprise by the airstrikes.
Related: Russian Aggression Complicates Obama's Options in Syria
In a long, tense interview with CBS's "60 Minutes," conducted Tuesday and aired Sunday night, however, Obama said: "We knew that he was planning to provide the military assistance that Assad was needing because they were nervous about a potential imminent collapse of the regime."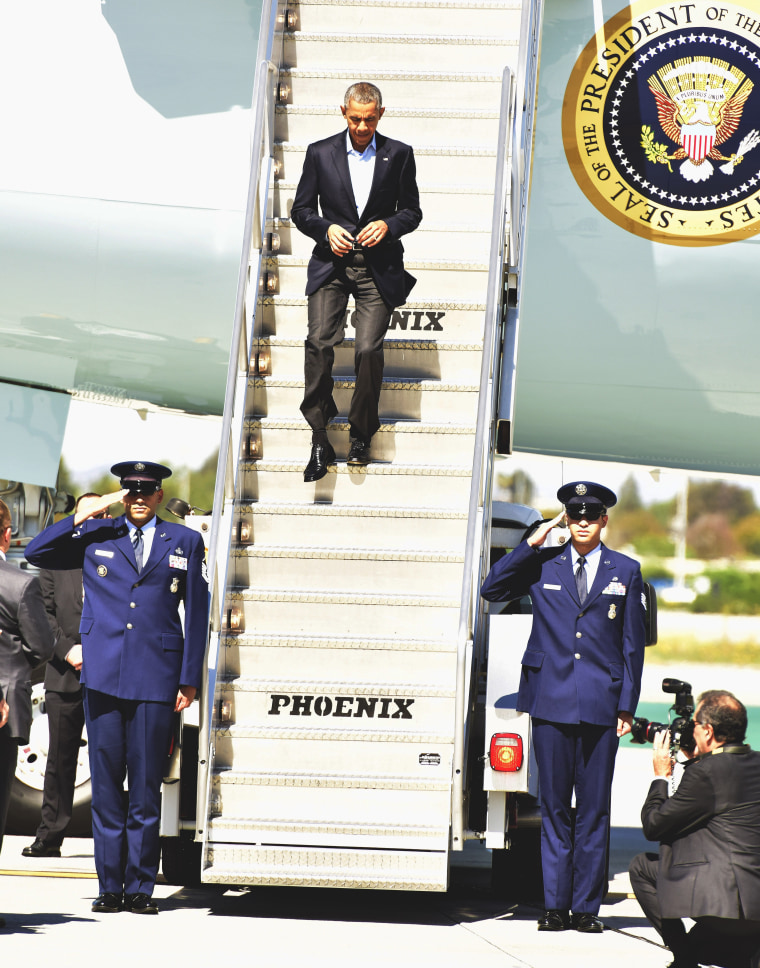 Asked specifically whether he knew of Putin's plans before they met at the United Nations on Sept. 28, Obama said, "We had pretty good intelligence."
The question of how much Obama knew about Putin's plans has become more prominent as presidential candidates Donald Trump, New Jersey Gov. Chris Christie and Sen. Lindsey Graham of South Carolina and other Republicans have criticized Obama for showing weakness in the face of Russia's advance.
But Obama contended in the interview broadcast Sunday that "the fact that they had to do this is not an indication of strength. It's an indication that their strategy did not work."
White House press secretary Josh Earnest declined to answer the question at a briefing last week, saying only that there had been no direct "operational-level conversation" at the leadership level before Russia began its airstrikes.
Earnest said U.S. and Russian military officials have "been in touch to begin those tactical-, practical-level conversations" but wouldn't clarify whether those discussions began before or after Russian airstrikes began.
Obama pushed back strenuously against several questions CBS News correspondent Steve Kroft asked in the interview, including coming to the defense of former Secretary of State Hillary Clinton amid questions over the security of her use of a private email service while she was in office.
"I don't think it posed a national security problem," Obama said. "I think that it was a mistake that she has acknowledged, and, you know, as a general proposition, when we're in these offices, we have to be more sensitive and stay as far away from the line as possible when it comes to how we handle information, how we handle our own personal data."
When Kroft pressed him on the issue, noting that "this administration has prosecuted people for having classified material on their private computers," Obama responded: "These are all a matter of degree. We don't get an impression that there [were] purposely efforts to hide something or to squirrel away information."
Kroft also asked Obama whether he wanted Vice President Joe Biden to join the presidential race because "there's nobody on either side of the aisle that is exactly running on your record."
Obama let the implied criticism pass unremarked, saying: "You know, I am going to let Joe make that decision. And I mean what I say."
He said that Biden would "go down as one of the finest vice presidents in history" and that it would be surprising if any official near the top of a presidential administration "has not thought about being the president."
"If you're sitting right next to the president in every meeting and, you know, wrestling with these issues, I'm sure that for him he's saying to himself, 'I could do a really good job,'" the president said.