ISIS' seizure of the ancient Syrian city of Palmyra early Thursday intensified fears that the 2,000-year-old site's archaeological treasures would become the latest to face destruction at the hands of militants.
The extremists' wanton carnage has also reignited debate about whether precious relics are best housed in their country of origin or stored — and in some cases protected — in overseas museums.
Syria's antiquities chief Maamoun Abdulkarim warned Wednesday that Palmyra looked likely to suffer the same fate as Nimrud in northern Iraq, the 3,000-year-old city which was bulldozed by insurgents in March as part of a campaign to eliminate relics that they consider heretical.
Elsewhere in Iraq, ISIS has smashed relics at a museum in Mosul, opened fire with assault rifles on priceless statues in Hatra, threatened to demolish the ancient walls of Nineveh and looted, destroyed or sold priceless antiquities from other cultural heritage sites in the region.
"Any destruction to Palmyra is not just a war crime, but it will mean an enormous loss for humanity"
Secretary of State John Kerry has called ISIS' actions a "crude attempt to erase the heritage of an ancient civilization."
Palmyra has been designated a site of "outstanding universal value" by UNESCO, the United Nations cultural agency which describes the once-great city as "one of the most important cultural centers of the ancient world."
Known as "Venice of the Sands," it was the crossroads for several civilizations and features aspects from ancient Rome, Greece and Persia. Built on an oasis in the Syrian desert, the centerpiece of Palmyra's ruins is a 1,000-yard colonnaded main street that links to the remains of temples, a theater, houses and other public monuments. There is also a Roman aqueduct and what UNESCO calls "immense necropolises."
The modern town is home to about 65,000 people.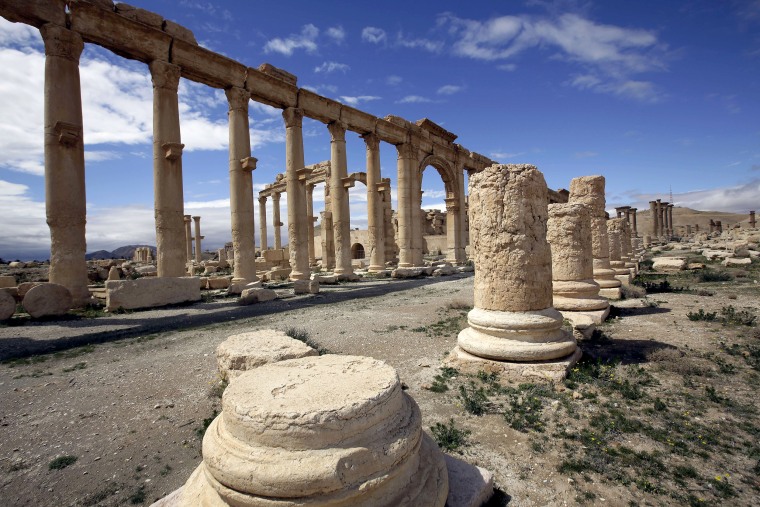 "Palmyra is an extraordinary World Heritage site in the desert, and any destruction to Palmyra is not just a war crime, but it will mean an enormous loss for humanity," UNESCO Director General Irina Bokova said on Thursday. "I appeal to all parties involved in the conflict for an immediate cease-fire in and around Palmyra. It is an extremely important World Heritage site which belongs to the whole of humanity and we have the responsibility to protect and preserve it."
Abdulkarim, the Syrian official, told Reuters that hundreds of statues from Palmyra had been moved to safe locations. However, he was more pessimistic about the rest of the site, expressing fears for the "large monuments that cannot be moved."
"This is the entire world's battle," Abdulkarim added. "Human, civilized society has lost the battle against barbarism. I have lost all hope."
Dr. Amr al-Azm, a professor of Middle East history and anthropology at Ohio's Shawnee State University, described Palmyra as a "very rich" place for academics and archaeologists. He added that it "many, many wonderful artifacts" had been found there.
In the wake of ISIS' invasion, al-Azm said experts were "very, very concerned" that Palmyra would suffer a similar fate to Aleppo, another World Heritage Site which has "been totally destroyed between aerial bombing and tunneling."
Dr. Tom Flynn, a senior lecturer at London's Kingston University, said the dramatic rise in the destruction of cultural heritage sites by ISIS had provoked new discussion about whether relics seized by colonial powers in the past should remain in "universal museums" in London, New York, Paris and elsewhere.
"Because of the destruction in the Middle East people will argue that these objects are surely safer," he added, but said that was an over-simplification of the issues.
Flynn cited the example of the Parthenon Marbles — also known as the Elgin Marbles — that are displayed at the British Museum and which Greece wants back.
The collection of stone objects, inscriptions and architectural features includes sculptures from the Parthenon in Athens, which were "acquired" by Thomas Bruce, the seventh Earl of Elgin, between 1801 and 1805.
The Earl of Elgin spent £70,000 of his own money — the equivalent of almost $500 million today — to purchase half of the surviving 5th century BC sculptures and then transported them by sea to Britain.
The U.K. government bought them from him in 1816 and gave them to the British Museum, where they have remained ever since.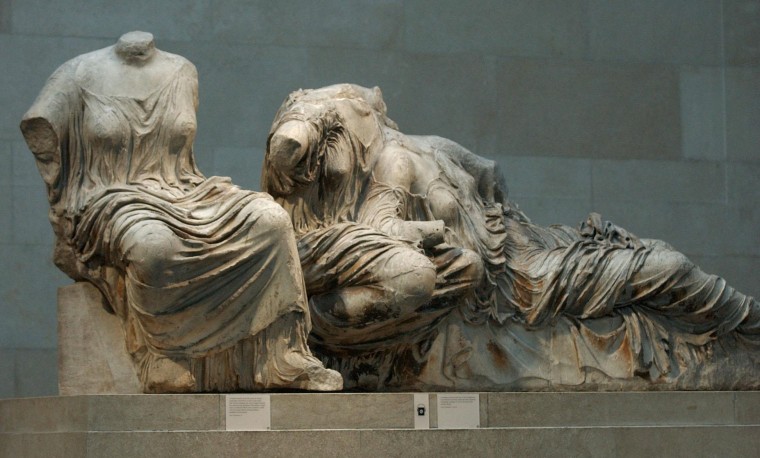 Greece has been demanding the return of the spectacular works or more than 30 years but they recently declined to follow the suggestions of a 150-page report prepared by human-rights lawyer Amal Alamuddin, which suggested they take their claim to the International Criminal Court.
Greece "has a just cause and it is high time for the British Museum to recognize this and return them," said Alamuddin, who is the wife of actor George Clooney. However, she acknowledged that Greece only had about a 15 percent chance of winning such a case.
Earlier this year, the British Museum turned down a proposal by UNESCO to mediate in the dispute. It justifies the decision to keep the Parthenon Marbles by claiming on its website that displaying them in London allows the worldwide "public to re-examine cultural identities and explore the complex network of interconnected human cultures." The museum declined to comment when contacted by NBC News on Wednesday.
Many have also argued that Lord Elgin actually saved the sculptures from ongoing destruction.
The Greek church smashed up a large number of the ancient temple's carvings in the 5th century and the Venetians then blew up chunks of the building in 1687 and in the 19th century. When Lord Elgin arrived in Athens to serve as ambassador, the occupying Ottomans were grinding the sculptures up for limestone and using them for artillery target practice.
"Perhaps Elgin did save them," said Eddie O'Hara, the chairman of the British Committee for the Reunification of the Parthenon Marbles. "But that's a bit like taking someone's washing in because it's raining and not giving it back."
However, one former British lawmaker said it would be "foolish, on an impulse of misguided post-imperial revisionism, to undermine the world's great collections" including the Parthenon Marbles at its current home.
Calling the Smithsonian in Washington, D.C., the Louvre in Paris and Toronto's Royal Ontario Museum as "places of big ideas" in an article for The Guardian newspaper, Alan Howarth wrote: "The major museums have always promoted the cultures of other nations by showing and sharing them in an international and historical context."
Howarth, a former education minister in the U.K. Parliament, added that he could "see a certain force in the argument where if there are countries where removable objects are at risk there would be case for secure museums offering a place of refuge for them."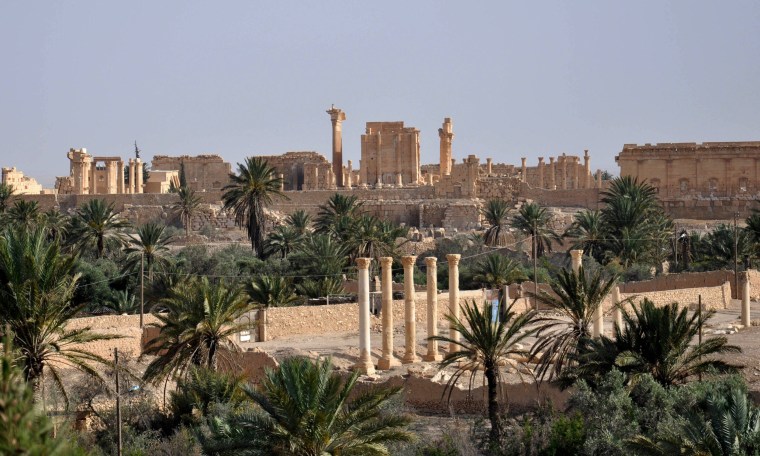 But that suggestion isn't an option for the ruins of ancient Palmyra.
Al-Azm, the Ohio-based academic who is also former head of the Center for Archaeological Research at the University of Damascus, said that ISIS relished highlighting how "impotent" the international community is to stop their "acts of violence and atrocities."
He added: "One must remember that one day this conflict will end and when it does Syrians are going to have to reach out and look for any common denominators. I think the shared common history and heritage that almost all sides recognize as their own ... will help people come across this great divide which has opened up within Syrian society, and maybe help them reconcile with one another and move on. In a way, saving Syria's past is also saving Syria's future."
NBC News' Sarah Burke and Reuters contributed to this report.