The parents of slain American ISIS hostage Kayla Mueller said they feel the U.S. government "waited too long" to try to rescue their daughter and other hostages — an attempt that failed because the terror group had already moved their captives.
The Mueller family learned shortly before the media broke the story about the botched rescue.
"The White House called us. And we turned on the TV," her father Carl Mueller told TODAY's Savannah Guthrie in an exclusive interview. "Within 20 minutes, it was on the news. That's how we found out."
Mueller said he understood that the U.S. didn't want to put soldiers in harm's way "without knowing exactly the circumstances.
"But yeah, I think they waited too long," he said. "Through people that have gotten released, we had an idea of where they were, a real good idea where they were."
ISIS claimed in early February that Kayla Mueller, a 26-year-old aid worker, was killed in a coalition airstrike. Before her death was confirmed, President Barack Obama had stressed that the U.S. was deploying "all assets" to save Mueller. She was believed to be the last American hostage held by ISIS.
Three other Americans — James Foley, Steven Sotloff and Abdul-Rahman Kassig — had been beheaded by the militant group.
Carl Mueller also accused the Obama administration of putting its policy of not paying ransoms "in front of American citizens' lives, saying he had mixed feelings about the government's refusal to negotiate with terrorist groups who kidnapped foreigners. Other Western countries are known to have paid millions to secure the release of their nationals.
Kayla Mueller had traveled to Turkey's border with Syria in 2013 to work with refugee families. She was abducted last August after entering Syria with her Syrian boyfriend who was called to fix the Internet at an aid hospital.
"I don't know where she got the courage to do those things that she did. But that's who she was," said Carl.
"She was loving. She was joyful. She was peaceful," added her mother, Marsha Mueller.
Still grieving, the Muellers take comfort in continuing their daughter's mission.
"Kayla taught us so much. She changed our life's direction," said Carl. "And I think that's what I'll remember about Kayla other than my little girl."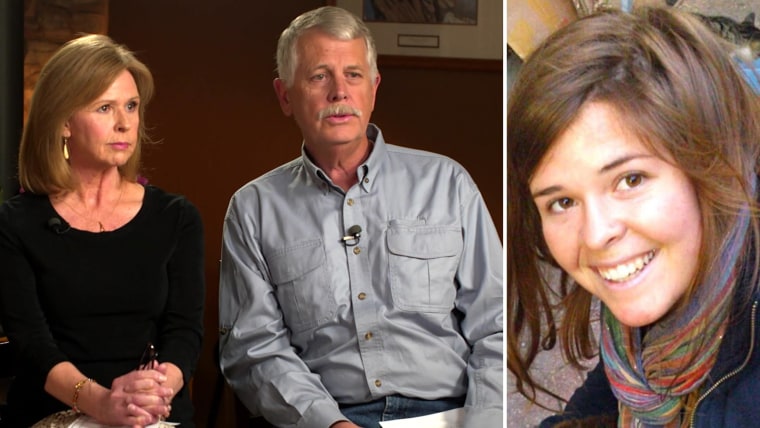 IN-DEPTH