A U.S. coalition jet killed a senior leader who was one of the first terrorists to join ISIS in an attack in Syria last month, the Defense Department said Thursday.
Tariq Bin-al-Tahar Bin al Falih al-Awni al-Harzi, a top fundraiser for the radical Islamist group, was killed June 16 in an airstrike over Shaddadi, said Navy Capt. Jeff Davis, a spokesman for U.S. Northern Command.
His brother, Ali bin Tahar al-'Awni al-Harzi — described as a "person of interest" in the September 2012 attack on the U.S. consulate in Benghazi, Libya — was killed in Mosul, Iraq, the day before, Davis said.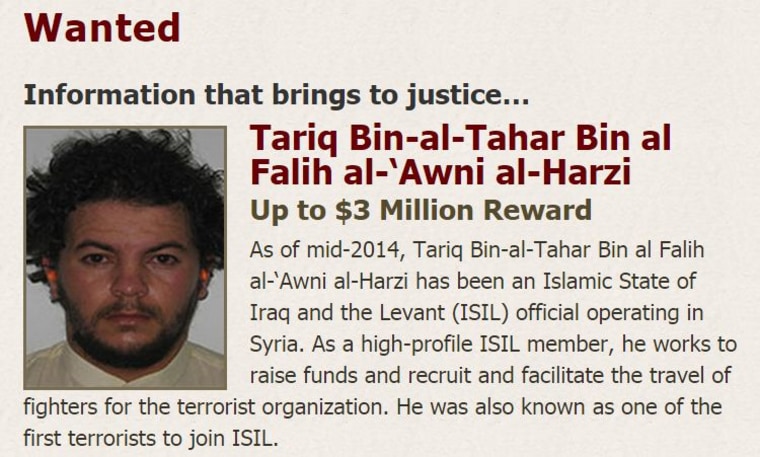 Tariq al-Harzi, 33, one of the most wanted leaders of ISIS, was the target of a $3 million U.S. reward. The Pentagon said he was responsible for moving people and materiel into Iraq and Syria and facilitated the use of suicide and improvised explosive device attacks in Iraq.
Al-Harzi was one of the first prominent terrorists known to have joined up with ISIS in 2013, and "his death will impact [ISIS'] ability to integrate foreign terrorist fighters into the Syrian and Iraqi fight, as well as to move people and equipment across the border between Syria and Iraq," Davis said.
The State Department said al-Harzi also raised millions of dollars from Gulf-based donors — including about $2 million from a Qatar-based facilitator in just one transaction in September 2013. The Treasury Department listed him as a "specially designated global terrorist pursuant" last September.