MOSCOW — Turkish President Recep Tayyip Erdogan and his family are "involved" in ISIS' illegal oil trade and personally benefit from it, Russia alleged Wednesday.
"Turkey is the main destination for the oil stolen from its legitimate owners, which are Syria and Iraq," Russia's Deputy Defense Minister Anatoly Antonov told journalists in Moscow. "Turkey resells this oil. The appalling part about it is that the country's top political leadership is involved in the illegal business — President Erdogan and his family."
Russian military officials displayed satellite images that they said showed columns of tanker trucks being loaded with oil at installations controlled by ISIS in Syria and Iraq, and then crossing the border into Turkey.
Antonov did not say what evidence Russia had of Erdogan's involvement — an allegation that the Turkish leader has previously denied.
"In the West, no one has asked questions about the fact that the Turkish president's son heads one of the biggest energy companies, or that his son has been appointed energy minister," Antonov said. "What a marvelous family business!"
He added: "We understand that some of the Turkish leaders, notably Mr. Erdogan, will not step down and will not admit anything. I would like to emphasize that Erdogan's resignation is not our goal. It's up to the people of Turkey to decide."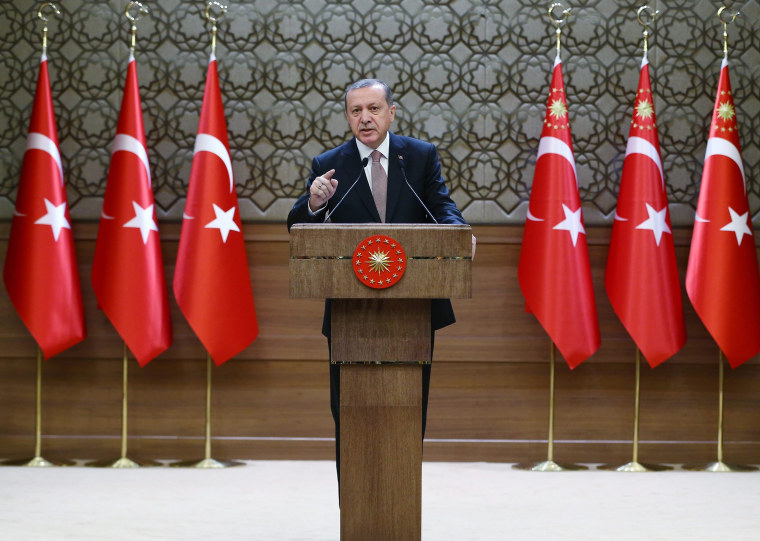 Erdogan later responded by saying that no one had the right to "slander" Turkey by accusing it of buying oil from ISIS, and that he would stand down if such allegations were proven to be true, according to Reuters.
Speaking at a university in Qatar's capital of Doha, Erdogan added that he did not want relations with Moscow to worsen further.
Russia's comments are the latest in a string of allegations the two countries have exchanged since Turkish forces shot down a Russian warplane on Nov. 24, saying it entered its airspace from Syria. One of the jet's pilots was killed, as well as a Russian Marine sent to rescue him.
Oil smuggling, much of it to Turkey, is a key source of income for ISIS. The group uses the money in part to pay its fighters monthly salaries and provide stipends to their families.
ISIS sees itself as a state, providing an education and welfare system, which means the group has high running costs. Two U.S. counter-terrorism officials told NBC News in July that ISIS can earn roughly $8 million to $10 million per month from selling and smuggling oil and gas.
Turkey is part of a U.S.-led coalition of countries fighting ISIS in Syria and Iraq. Russia, meanwhile, supports Syrian President Bashar Assad and has bombed his opponents.
While Moscow says it is also targeting ISIS, the U.S. has accused it of hitting other anti-Assad rebel groups, including fighters supported by Turkey.