DAMASCUS, Syria — Russian warships fired cruise missiles as Syrian government troops launched a ground offensive Wednesday, the first major combined assault since Moscow began its military campaign in Syria last week.
The missiles, launched from a Russian flotilla in the Caspian Sea, traveled 900 miles over "unpopulated areas" to target militants, according to a Russian officer.
The latest developments — exactly a week after Russia began launching airstrikes in Syria — add a new layer to the complex war that has torn the country apart since 2011.
Moscow has mainly targeted central and northwestern Syria, strategic regions that are the gateway to President Bashar Assad's strongholds in Damascus, and along the Mediterranean coast. But the strikes appear to have given Assad new confidence to try to retake some lost ground.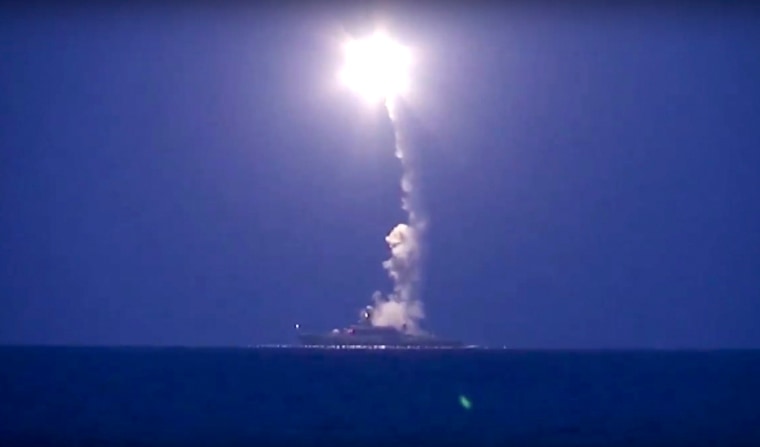 According to a Syrian official, the government push is concentrated in the adjacent provinces of Hama and Idlib where rebels have been advancing in the past months. The official spoke on condition of anonymity in line with regulations.
ISIS, which Russia says it is targeting, is not present in the areas where the fighting is underway.
Wednesday's offensive in central Syria and the ensuing clashes with militants, including al Qaeda's Syrian branch, was the first major ground fighting since Moscow began launching air raids in Syria last week.
The Russian airstrikes appear to have emboldened Syrian troops to launch the ground push after suffering a string of setbacks in northwestern Syria over the past few months.
In Moscow, Russian Defense Minister Sergei Shoigu said Russia was using warships in the Caspian Sea to target ISIS in Syria.
Shoigu told President Vladimir Putin in televised remarks that Russia on Wednesday morning carried out 26 missile strikes from four warships of its Caspian Sea flotilla. Shoigu insisted the operation destroyed all the targets and did not launch any strikes upon civilian areas.
Andrei Kartapolov of the Russian General Staff told Russian news agencies that Russia had planned the missile strikes from the warships so that they would be flying "over unpopulated areas." Shoigu also said Russia has carried out 112 airstrikes on ISIS positions since its operation began on September 30.
The Britain-based Syrian Observatory for Human Rights said a government offensive began on four fronts early Wednesday in the northwestern provinces of Idlib and neighboring Hama. Observatory director Rami Abdurrahman described it as "the most intense fighting in months."
In Syria, the leader of a U.S.-backed rebel group, Tajammu Alezzah confirmed the ground offensive in a text message to the media, claiming there were Russian and Iranian soldiers in the operation.
The rebel group's commander, Maj. Jamil al-Saleh, said the offensive, accompanied by air cover and shelling, came from three fronts, including Latamneh, north of the Hama province where his group is based, and Kfar Zeita to the north. The offensive targets the rural part of northern Hama and Idlib, the northwestern province, almost totally controlled by rebel groups, he said.
Activist Ahmad al-Ahmad, who is currently in Idlib, said government troops are "heavily" shelling central areas after rebels attacked an army post and destroyed a tank there.
The Observatory said two helicopters — believed to be Russian — were seen flying at low altitude in Morek. It added that militants opened fire at the helicopters without striking them. It was not immediately clear if the pilots were Russian or Syrian. The Syrian military has Russian-made helicopters in its air force.
Though ISIS has no presence in the areas hit Wednesday, al Qaeda's affiliate in Syria, the Nusra Front, is active in central and northern parts of the country — as are the Western-backed rebels.
In Turkey, Prime Minister Ahmet Davutoglu renewed criticism of Russia's airstrikes in Syria, insisting they were mainly targeting the moderate Syrian opposition and therefore helping strengthen ISIS. He asked that Russia also respect Turkey's security concerns over Syria.
Russian warplanes violated Turkey's borders on two separate occasions over the weekend, drawing strong protests from Turkey's NATO allies. Turkey scrambled F-16s in response and also summoned the Russian ambassador to lodge protests.