BEIRUT — A human rights watchdog on Wednesday accused Russia of using cluster munitions and unguided bombs on civilian areas in Syria in attacks that it says have killed hundreds of people in the past few months.
The report by Amnesty International said there has been a surge in reports of cluster munitions dropped in areas targeted by Russian forces since Moscow formally joined the conflict Sept. 30.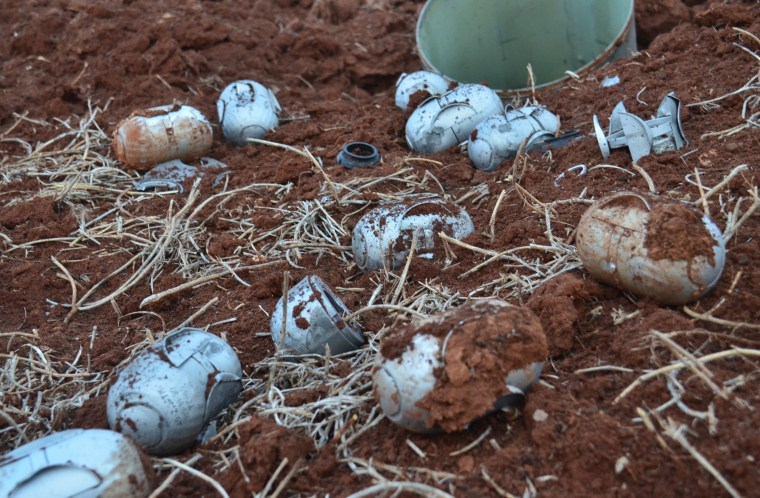 Cluster munitions are by nature indiscriminate and often leave unexploded bomblets on the ground. These can maim and kill civilians long after the cessation of hostilities.
The report focuses on six attacks in Homs, Idlib and Aleppo provinces between September and November which it says killed at least 200 civilians. It denounced Russia's "shameful failure" to acknowledge civilian killings.
"Some Russian airstrikes appear to have directly attacked civilians or civilian objects by striking residential areas with no evident military target and even medical facilities, resulting in deaths and injuries to civilians," said Philip Luther, director of Amnesty's Middle East and North Africa program. "Such attacks may amount to war crimes."
Russia Defense Minister Igor Konashenkov dismissed the allegations, saying his country did not use cluster bombs. He accused Amnesty International of trying distract attention from other countries conducting airstrikes, namely the United States.
Konashenkov also described the report as "fakes from faceless sources" and "all allegations without solid proof."
U.N. Secretary-General Ban Ki-moon noted with concern the Amnesty report, deputy spokesman Farhan Haq told reporters on Wednesday. But Haq added that the United Nations "cannot independently confirm the cases presented" in the report.
The accusations follow a report by New York-based Human Rights Watch last week which said cluster munitions were used on at least 20 occasions since Syria and Russia began their joint offensive on Sept. 30.
Russian officials have repeatedly rejected such accusations, and residents and opposition activists inside Syria acknowledge they have no way of knowing for sure whether the attacks are carried out by Russia or the Syrian military.
When asked Monday about allegations that Russia is using cluster bombs, Russian President Vladimir Putin's spokesman Dmitry Peskov said the Russian military in Syria operates in line with international law.
"Russia is conducting its operation in strict conformity with principles and norms of the international law, including those sections of the international law that regulate using and bans on using one or another type of weapons," Peskov told reporters.
Meanwhile, a close adviser to Syrian President Bashar al Assad said on Wednesday Damascus was ready to join U.N.-sponsored peace talks.
Bouthaina Shaaban said her government approved of U.N. resolutions passed last week endorsing an international road map for a Syria peace process. "We accept these resolutions," she told Beirut-based al Mayadeen television in the first official Syrian remarks on the matter.
The resolutions gave U.N. blessing to a plan negotiated earlier in Vienna that calls for a ceasefire, talks between the Syrian government and opposition, and a roughly two-year timeline to create a unity government and hold elections.