SOCHI — Russian warplanes pounded Syrian rebels unaffiliated with ISIS on Sunday, insurgents said, helping Moscow's ally, Bashar Assad, reclaim territory and dealing a fresh setback to the strategy of Washington and its allies.
President Vladimir Putin — who has infuriated Assad's enemies in the United States, Europe, Turkey and the Arab world by bombing the rebels to protect him — reached out to one of the Syrian leader's fiercest opponents by meeting the powerful defense minister of Saudi Arabia.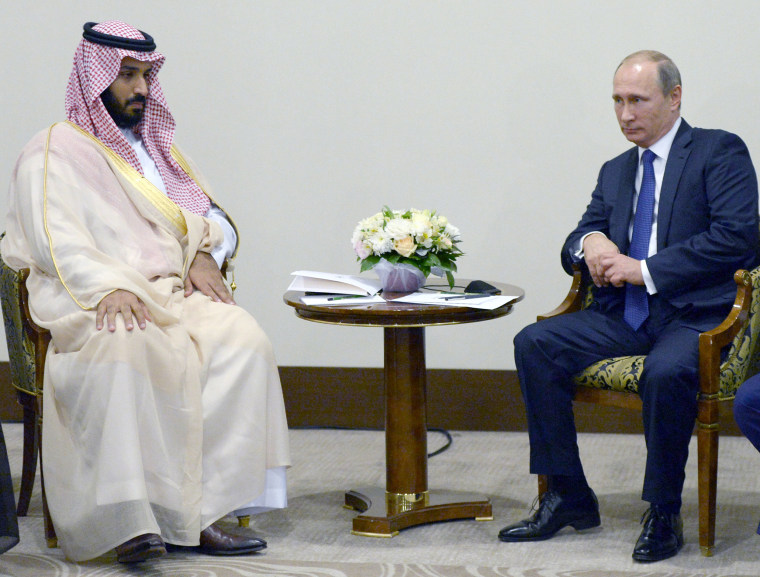 The Syrian Observatory for Human Rights, a group that monitors the 4-year-old conflict, said the Syrian military and its Lebanese Hezbollah militia allies had taken control of Tal Skik, a highland area in Idlib province, after fierce Russian bombing.
That brings Syrian government forces closer to insurgent-held positions along the main highway that links Syria's principal cities. The area is held by a rebel alliance that excludes ISIS fighters.
Related: Some Iraqis Are Asking Russia to Bomb ISIS in Their Country
"The coming battles are going to be ferocious, the Russians are using scorched earth policy and they are hitting the targets very accurately but this is a battle of destiny," said Abu Hamed, the head of the military bureau of Jabhat Sham, an insurgent group that operates mainly in Hama province.
The Syrian army made advances from the towns of Mourek and Atshan in Hama province using tanks, heavy artillery and new surface-to-surface missiles, he said.
Russia said its planes had flown 64 sorties, striking 63 targets and destroying 53 fortified positions in the previous 24 hours. As in the past, it described all targets as belonging to ISIS, although most of the areas it said it had struck are not held by that group.
Related: Russian Aggression Complicates Obama's Options in Syria
Syrian state television also reported that the government had captured Tal Skik with the help of Russian air strikes.
The Russian airstrikes derailed a tentative detente between Russia and Saudi Arabia earlier this year, which aimed to smooth tensions over Syria and relations with Riyadh's regional rival Iran.
"We expressed our concerns that these operations could be regarded as an alliance between Iran and Russia," said Saudi Foreign Minister Adel al-Jubeir.
"But in the conversation, our Russian friends explained to us that the main aim is the fight with ISIS and terrorism," he added.