A man with a long black scarf wrapped tightly around his face sat down in an apartment in southern Turkey and placed a plastic shopping bag on a table. He reached inside to reveal a 20-inch-tall relief.
The sculpture depicting a sun god, he said, was the last in a series of artifacts he had been selling in the country on behalf of ISIS.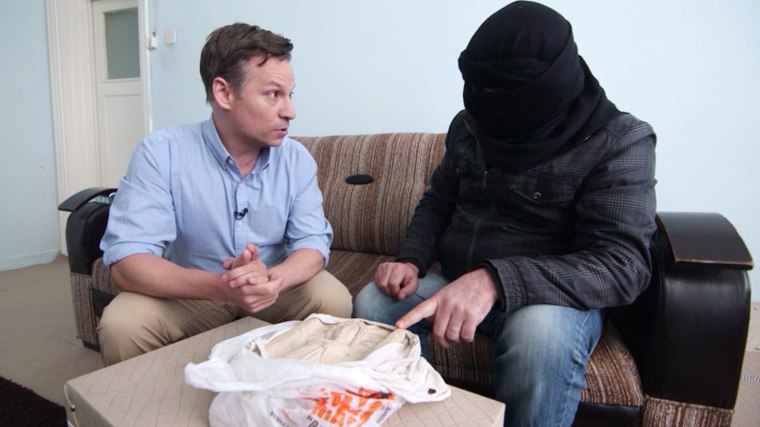 "They destroy those large statues for the cameras," said the 38-year-old man, who asked only to be identified as Abu Mustafa, referring to the propaganda videos of ISIS fighters smashing larger, life-sized sculptures with hammers in the ancient Syrian city of Palmyra.
"They're too big to move, anyway," he said, before turning his attention to the smaller prize in the plastic bag: the relief of an ancient sun god. "What they are really interested are these."
Inside this apartment in a Turkish town near the Syrian border, the ISIS smuggler spoke in detail about the lucrative antiquities trade in which he has been involved. Even as Syrian government forces celebrated the recapture of Palmyra, a UNESCO world heritage site, from ISIS last month, the terror network was busy selling off cultural treasures looted from one of the centers of the ancient world.
RELATED: Mass Grave With Women, Children Found in Palmyra
NBC News showed pictures of Abu Mustafa's artifact to several leading experts, and while none of them could verify the object's authenticity from a photo, most of them agreed that it most likely comes from Palmyra and dates back to the first or second century A.D.
A similar artifact from the Palmyra museum, used as a reference by some of the scholars, is said to have been unearthed in the renowned Valley of Tombs.
Newly declassified satellite images included in a report released on Monday by the State Department-funded ASOR Syrian Cultural Heritage Initiative reveal the extent of the damage to the archaeological site during the 10-month-long ISIS occupation of Palmyra.

"The damage to what is known as the Valley of the Tombs is much more extensive than what we originally thought," said Amr Al-Azm, a contributor to the ASOR Initiative and a professor at Shawnee State University in southern Ohio.
Pointing to the centuries-old funerary towers, Al Azm said 12 of them "have been blown up, damaged or partially destroyed in addition to extensive looting of some of the tombs in the area."
The story of how Abu Mustafa's small relief was recovered reveals an elaborate antiquities smuggling scheme put in place by senior members of ISIS. The object was taken from the soil that had protected it for centuries before ending up on the black market in a Turkish border town.
It all began with a phone call from Abu Mustafa's brother-in-law, an ISIS commander, or emir, in Raqqa, the de facto capital of ISIS.
"He called me and said, 'I have a good job for you,'" Abu Mustafa said. "I asked him to explain (and) he said, 'Come over.'"
Since that first meeting in Raqqa, Abu Mustafa said he personally transferred and sold more than 10 artifacts. He also showed NBC News the travel document that was issued for him on ISIS letterhead, permitting him to travel freely inside Syria and on "to the infidel country — Turkey," the document reads.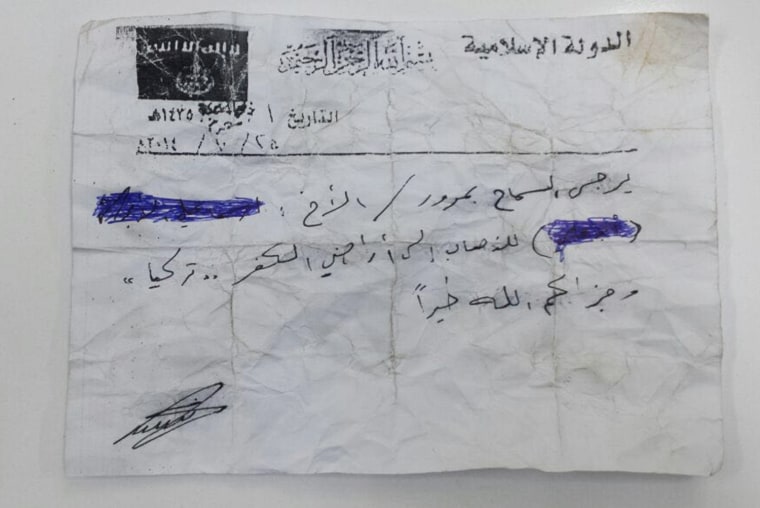 Trust among smugglers is hard to come by, and Abu Mustafa said that the emir drove him part of the distance to Turkey a few times in order to keep an eye on him and make sure he didn't run off with the precious spoils. The emir also ensured that after the items were sold, Abu Mustafa would be sending back 85 percent of the money to the emir.
Related: ISIS Beheads Archaeology 'Pioneer' in Palmyra
Abu Mustafa claims that the buyers were German, French and even Americans, and that the artifacts were sold for as much as $60,000 per piece — but there was no way of verifying either of those claims.
Al-Azm believes that Abu Mustafa trades in the lower end of the illegal market. As a coordinator of The Day After Heritage Protection Initiative, the professor spends much of his time tracking that market.
The initiative runs a team of young Syrian archaeologists and volunteers — modern real-life "The Monuments Men" — who endanger their lives entering ISIS territory and documenting the dealings of men such as Abu Mustafa.
"It's how we know all the basic information about how ISIS operates with regards to cultural heritage," Al-Azm said.
Al-Azm also shared with NBC News evidence of ISIS-issued official licenses permitting the looting of archaeological sites, as well as two never-before-published photographs of Palmyrene statues which were part of a public auction in Raqqa a few weeks ago.
The starting price for the statues was $150,000, and ISIS auctions like that have one unbreakable rule: cash upfront.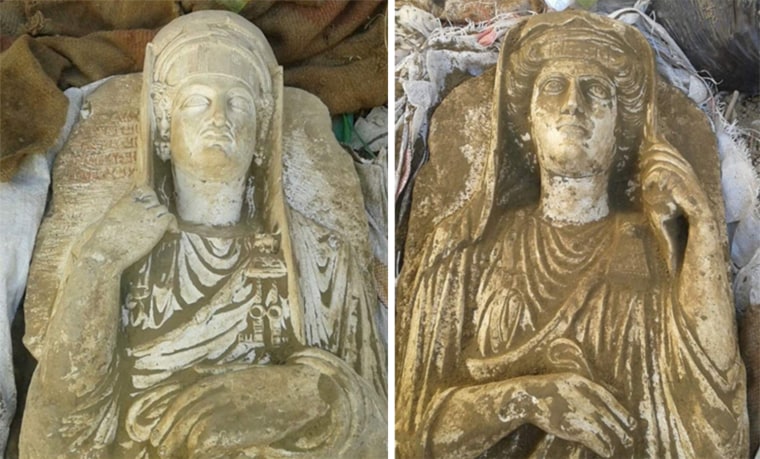 Abu Mustafa claims that ISIS broke that rule and says that's why he chose to speak out about the black market of antiquities. The emir thought Abu Mustafa was selling the artifacts too cheaply, the smuggler said, and decided to hold back 15 percent — his cut.
Abu Mustafa traveled to Raqqa one last time to pick up the sun god relief from the emir but he had already decided to keep all the money he makes when he sells it. He will never go back. He believes the emir — because he's a relative — would spare his life.
Al-Azm, a former Syrian antiquities official who now spends much of his time tracking the illicit trade from Ohio, is watching these smuggling networks closely. He's worried for Syria's cultural heritage, but says that only a few artifacts smuggled from Palmyra by ISIS have hit the marketplace so far.
But Abu Mustafa warns that more will soon follow.
"From Palmyra, in particular, "he said. "A large proportion was transported into Turkey."
"Some of them were sold already," he added, but wasn't certain if they've landed on European soil. "Maybe the buyers are still trying to figure out how to get them on a plane or a boat."