A top State Department official told Congress Wednesday that an attempt by Syrian President Bashar Assad's forces to encircle the city of Aleppo is causing "a humanitarian catastrophe" — but officials and outside experts tell NBC News the U.S. is not prepared to take military steps to stop it.
Brett McGurk, the State Department official coordinating the effort against ISIS, told the House Foreign Affairs Committee that military moves by the Assad regime, backed by Russian air strikes and Iranian logistical support, have created a flood of refugees that is "unacceptable."
He declined to dispute a previous assertion by a State Department official that the creation of a no-fly zone or safe zone would require a massive amount of American military resources and therefore detract from the fight against ISIS.
Ambassador Anne Patterson, assistant secretary of state for Near Eastern Affairs, told lawmakers in November that there is "no viable option on the table at this time," for a safe zone or no-fly zone, and McGurk appeared to endorse that statement Wednesday when asked about it.
He also explained why the U.S. does not want to see the Assad government defeated militarily.
"The struggle we face from time to time is that the collapse of the regime in Damascus would open up a vacuum which terrorist groups would fill," he said.
"Assad cannot remain in power if we are ever going to get out of this incredibly difficult situation," he said. "But we do have to do it in a managed way through a political process."
There is no sign of that happening any time soon.
Under a covert program, the CIA has been providing groups of Syrian rebels with anti-tank TOW missiles, and the TOWs proved effective last fall in taking out Syrian government tanks. But now, analysts say, the Syrian military has adjusted, and is using fighter jets helicopters in lieu of tanks to bomb and strafe rebel positions.
"The TOW missiles presented a real problem for the Syrians a few months ago but what they did was, they used the helicopters," said Joshua Landis, director of the Center for Middle East Studies at the University of Oklahoma.
"The Russians fly low with the helicopters and they can deal with the rebels. These TOW missiles can't take down helicopters."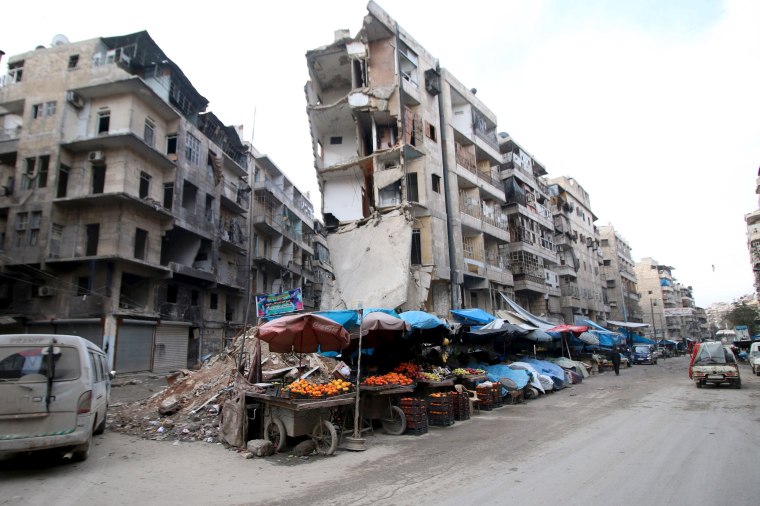 Surface-to-air missiles could shoot down helicopters, but there is no appetite within the Obama administration to provide those weapons to Syrian rebels, U.S. officials say.
While the U.S. has identified some so-called moderate rebels, the most powerful anti-Assad force is the Nusra front, Syria's al Qaeda affiliate. U.S. officials tell NBC News it would be too risky to interject missiles that could later be used to take down civilian aircraft.
The CIA spent years trying to account for the Stinger missiles it provided to Afghan rebels fighting the Soviets in Afghanistan in the 1980's — a group that became al Qaeda.
When Muammar Gaddafi fell in Libya in 2011, surface to air missiles from his military stockpiles fell into a variety of hands, and the CIA launched a program to try to buy them or otherwise acquire them. The agency has worked to keep Syrian rebels from buying the missiles on the open market, U.S. officials say. Among the worries about a rebel collapse is that some groups will find a way to buy the missiles through their regional allies, including Saudi Arabia, the United Arab Emirates and Qatar.
Landis predicted that Assad's forces would encircle and then bomb Aleppo, and that there is little the U.S. can do about it.
"The instinct is to want to go in and save these people, but if you don't have a political solution you're not saving anybody," he said. "You're just prolonging a civil war."