President Obama faces an increasingly stark choice in Syria — he can order American military action or watch thousands of women and children die as the rebel stronghold of Aleppo falls.
So far, he has shown no willingness to launch a U.S. military response, but White House officials told NBC News Monday they are now considering escalating the U.S. involvement in Syria's civil war, including unspecified "actions…that would further underscore the consequences of not coming back to the negotiating table."
Until now, Obama could point to the possibility of a diplomatic solution, as Secretary of State John Kerry won Russia's agreement on a ceasefire.
But the ceasefire never happened, and the diplomatic effort has now collapsed, with the U.S. suspending talks with Russia.
And as the civilian death toll rises, Obama may come under increasing pressure to act, though there is no sign yet that a strike is imminent.
"As we have always said — and as Moscow has also noted — there is no military solution to the conflict in Syria," an administration official told NBC News. "While we have not and will not detail all of our tactics, there are a number of actions the U.S. and our partners are considering that would further underscore the consequences of not coming back to the negotiating table. In the meantime, we will continue to provide humanitarian relief to the millions of suffering Syrians just as we persist in our efforts to degrade and eliminate ISIL and al Qaeda."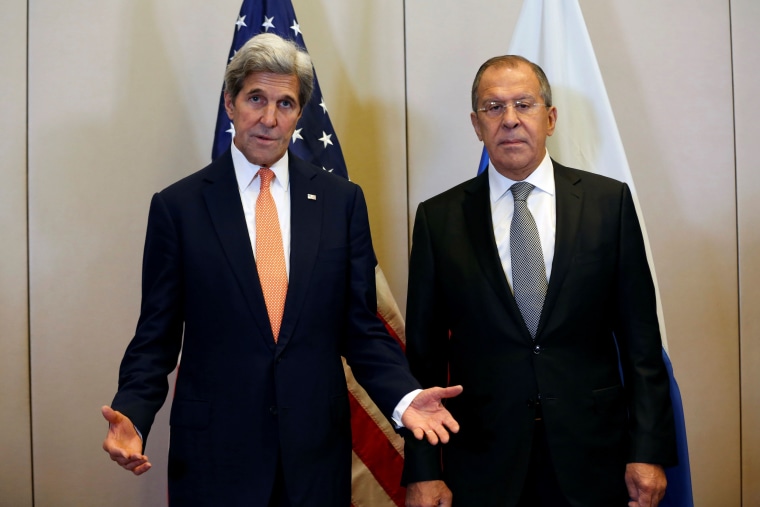 At issue is the center of the Syrian resistance, Aleppo — a city now teetering on the brink, surrounded by thousands of ground troops supporting the Bashar Assad regime.
American intelligence officials on Monday pointedly accused Russian and Syrian forces of mass atrocities during their advance on the city, describing a horrific bombing campaign in recent days that has killed women and children at an increasing rate.
"The regime and Russia's use of incendiary weapons have contributed to the unconscionable civilian deaths and suffering," a U.S. intelligence official said.
"[F]our people ... argued for use of force, and I lost the argument."
If Aleppo were to fall, it would put the lives of tens of thousands of additional Syrian civilians at risk, in a war that has already killed more than 400,000 and spawned a massive refugee crisis. Obama might be able to save the city for the rebels if he ordered U.S. air strikes against Assad's forces, but those would carry a significant risk of escalation with Russia, which backs the Assad regime and is bombing rebel positions.
On an audio recording released over the weekend, Secretary Kerry could be heard saying he had argued unsuccessfully for military action.
"I think you're looking at three people, four people in the administration who have all argued for use of force, and I lost the argument," Kerry told a group of Syrians on the tape first reported by the New York Times.
Some American officials say it may now be too late for Aleppo no matter what the U.S. does.
Assault on Aleppo
The ground troops around the city are a mix of Syrian regime forces, Iranian Quds Force, Hezbollah, and paid mercenaries from Iraq and Afghanistan, according to U.S. officials.
Russian fixed-wing aircraft and Syrian regime helicopters continue to pound the city from the air, and they are still striking Aleppo with artillery batteries outside the city. American officials expect this to continue once the ground forces move in.
The U.S. officials hoped the rebels and residents could hold out a few more weeks, but now that water is in such short supply, they are worried the city will fall much sooner.
U.S. intelligence officials say the regime and Russia have used heavy-duty penetrating "bunker buster" bombs and cluster munitions to target civilian population centers in the rebel-held eastern section of Aleppo, where children are almost half the population.
Stephen O'Brien, the United Nations Under-Secretary-General for Humanitarian Affairs, said Sunday that 275,000 people are besieged in the city, where they have been subjected to "a level of savagery that no human should have to endure. ... Indiscriminate bombing and shelling continues in a shocking and unrelenting manner, killing and maiming civilians."
O'Brien said the health care system in Eastern Aleppo is "all but obliterated. "Medical facilities are being hit one by one. I have received reports of attacks on at least three hospitals, including a pediatric hospital providing services to thousands of sick and injured children."
U.S. Faces Russia at Every Turn
Obama's options are all bad. Any U.S. military strikes--to destroy regime aircraft, for example, or cripple runways—would risk killing Russian troops or advisors, potentially prompting an escalation.
Yet some officials point out that Russia already is bedeviling the U.S. at every turn. Russia has been seeking to manipulate the U.S. presidential election through leaks and hacks. U.S. personnel have been beaten up in Russia and allegedly drugged. Russian planes have flown dangerously close to U.S. ships.
On Monday, Russian President Vladimir Putin signed an order suspending an agreement with the U.S. to dispose of nuclear material, "as a result of unfriendly actions by the United States of America towards the Russian Federation."
In recent weeks, White House officials have floated options in Syria including providing surface to air missiles or other advanced weaponry to rebels, officials told NBC News. But military officials believe it's far too late for that, now that the city is surrounded.
Obama's critics believe he is paralyzed by what happened in Libya, when the U.S. and its allies intervened in 2011 to avert a humanitarian disaster, only to see the country devolve into a chaotic terrorist safe haven.
But unlike in Libya, the CIA believes there is a credible, moderate Syrian force that could help run the country in a brokered agreement after Assad's ouster, U.S. officials say.