Hundreds of Syrian rebels and some of their families began evacuating the last opposition stronghold in the city of Homs on Wednesday as part of a ceasefire deal with government forces, state media reported.
The agreement will allow President Bashar Assad's government to end up in control of Homs — once dubbed the "capital of the revolution" and blockaded for nearly three years.
The conflict, which began in 2011, has killed an estimated 250,000 people and displaced 12 million more.
United Nations and Red Crescent officials on the outskirts of Waer saw the gunmen and civilians transported to areas further north, The Associated Press reported. Among the insurgents were members of the al Qaeda branch in Syria, the Nusra Front, and more moderate rebels, the AP added.
Talal Barazi, governor of Homs, told Syria's Sana news agency that some 720 people would be allowed to leave Waer district — 300 of them militants — during the first stage of the agreement brokered by the U.N. and the Red Cross.
During a second stage, some 2,000 militants who wished to lay down their weapons and go back to their "normal lives" would be resettled, Sana reported. Some 70,000 civilians are believed to still live in Waer, which has been under siege since 2013.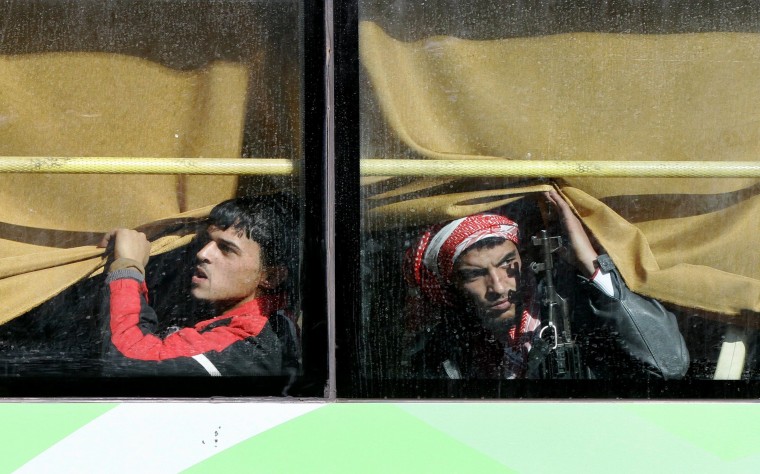 "With this agreement, Homs will now be a safe place free of weapons and gunmen," Gov. Talal Barazzi told the AP.
A similar deal in Old Homs was reached in May 2014. It left much of the city under full government control, with militants being relocated to rebel-controlled areas in the countryside to the north. Waer was not part of that previous agreement.
Related: Pentagon: Russia Opens New Syrian Base
A number of national reconciliations and agreements have taken place over the course of the civil war in Syria, mainly in areas surrounded and under siege by the Syrian Army in Damascus countryside.
The Syrian Army has been on the offensive in Homs countryside ever since Russia, one of Assad's most important backers, began flying bombing missions over the country in September.