Iraqi security forces attacked the city of Tikrit on Monday, mounting a full-on offensive to retake Saddam Hussein's birthplace from ISIS amid a larger push to recapture large stretches of the country's north from the militants.
ISIS militants seized Tikrit — the birthplace of late dictator Saddam Hussein — and Iraq's second-largest city of Mosul in June as part of their lightning offensive across northern Iraq.
U.S. officials said last month that plans are afoot for a massive operation to recapture Mosul from ISIS — probably this spring — but wresting Tikrit from the militants beforehand is seen as critical given the city's strategic location.
Iraq's security forces have tried repeatedly — in June, again in August — to retake Tikrit but made little headway against the militants.
In October, Iraqi forces backed by U.S. airstrikes surrounded ISIS fighters in Tikrit to choke off the fighters and managed to secure the road between the city and the key oil-refinery town of Baiji.
Iraqi Prime Minister Hayder al-Abadi this weekend hinted that a new offensive was imminent and offered what he called "the last chance" for local Sunni fighters to disavow ISIS.
"I call upon those who have been misled or committed a mistake to lay down arms and join their people and security forces in order to liberate their cities," al-Abadi told The Associated Press.
That drive got underway early Monday. Iraqi forces advanced on Tikrit from five directions, backed by artillery and heavy aerial support, according to a senior official in the Ministry of Defense. Rockets rained down on several ISIS targets in Tikrit, according to the official, who said that Iraqi forces were able to break through the first defensive line of militants in northern Tikrit.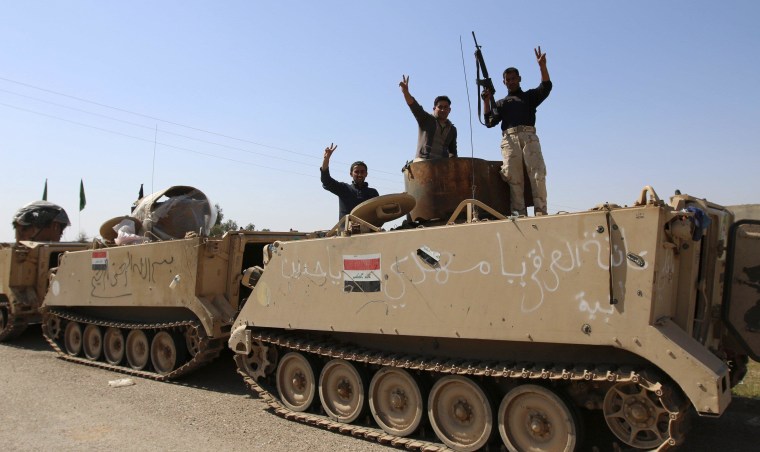 There were at least 20 brigades from Iraq's army and federal police, along with numerous armed Shiite groups offering support, according a senior security official.
Tikrit was the home city of Saddam Hussein, whose overthrow by U.S. forces in 2003 ended a long history of domination by Sunnis over what is today a Shiite majority in Iraq.
The presence of the Shiite militias in the latest push to retake the city has raised fears of possible revenge killings against Tikrit's largely Sunni population.
The Associated Press contributed to this report.