With plumes of smoke visible from across the Syrian border, Turkey has a front-row seat to the key battleground against ISIS: Kobani.
Refugees have flooded into Turkey, fleeing ISIS and pleading for more assistance for the Kurdish fighters battling to stave off the militants' advance on the town just six miles from the border.
Turkey has a powerful and well-equipped military. It has bases from which the U.S. could stage military strikes. It is geographically crucial to the anti-ISIS coalition, sharing long borders with Syria and Iraq. So why then has the key U.S. ally and country with NATO's second-largest army hesitated to jump into the fray?
"Turkey should have skin in the game here — they have not done enough," said David Schenker, director of the program on Arab politics at the Washington Institute for Near East Policy. "Their participation or their role has been insufficiently helpful."
While Turkey's parliament adopted a resolution authorizing military action against ISIS, the country so far has not offered any assets to the U.S.-led coalition against ISIS — or significant participation.
To most analysts, the role would be clear-cut: allow U.S. aircraft to use Turkey airbases for flights over Iraq and Syria and pony up combat troops.
"Turkey would be the principal actor in terms of a more effective operation," Schenker said. "When we talk about boots on the ground and local actors, this is what we're talking about. The problem is, Turkey just "hasn't been there" — and for political reasons would be loath to send in troops.
Those reasons were brought to the fore when Turkish President Recep Tayyip Erdogan said Tuesday the coalition air campaign launched last month wouldn't be enough to stall the ISIS advance and urged greater cooperation with the Syrian opposition, according to The Associated Press.
"Kobani is about to fall," Erdogan told Syrian refugees in the Turkish border town of Gaziantep, according to the AP. "We asked for three things: one, for a no-fly zone to be created; two, for a secure zone parallel to the region to be declared; and for the moderate opposition in Syria and Iraq to be trained and equipped."
That call for greater cooperation with the Syrian opposition underscored one of Turkey's No. 1 priorities: ousting Syria's president Bashar al Assad.
Some experts suggest that Turkey is holding out on the option of combat troops until the U.S. adds knocking out Assad to the anti-ISIS coalition's agenda. Others say that Turkey will only militarily engage when its interests are directly at play.
The U.S. government has been reluctant to spell out publicly what it expects of Turkey.
"The leaders of Turkey have indicated over the past several weeks they want to play a more prominent, active role in the coalition," State Department spokeswoman Jen Psaki said Monday. "We're having discussions with them about what that role is, what ideas they have. Beyond that, I'm not going to get ahead of that process."
The importance of Turkey to U.S. plans to defeat ISIS has been repeated in recent days. There have been frequent calls between American officials and Erdogan, and the White House took the unusual step of saying that Vice President Joe Biden had apologized to Erdogan for "any implication" that the country had "intentionally supplied or facilitated" the growth of ISIS in remarks he'd made at Harvard last week.
"You can see just how important it is to the administration to get Turkey on board," Schenker said. "The president has a choice: either our allies are going to step up and play a more robust and positive role — Turkey in particular — or this is going to be a limited containment operation that is not going to be particularly effective and is going to leave ISIS as a problem for the next U.S. president," Schenker said.
"That's what it's looking like right now," he added.
Given Turkey's restive Kurdish minority, Ankara's reluctance to engage also could be linked to concerns about a shift in the balance of power if the U.S. gives Iraqi Kurds heavy weapons. Ankara is wary of making any moves that could give a boost to Syrian Kurds with links to militants who've fought a 30-year insurgency for greater autonomy.
Demonstrations already have erupted across Turkey, with Kurds demanding the government do more to protect Kobani from ISIS. At least one person died and dozens were wounded in protests Tuesday, according to Reuters.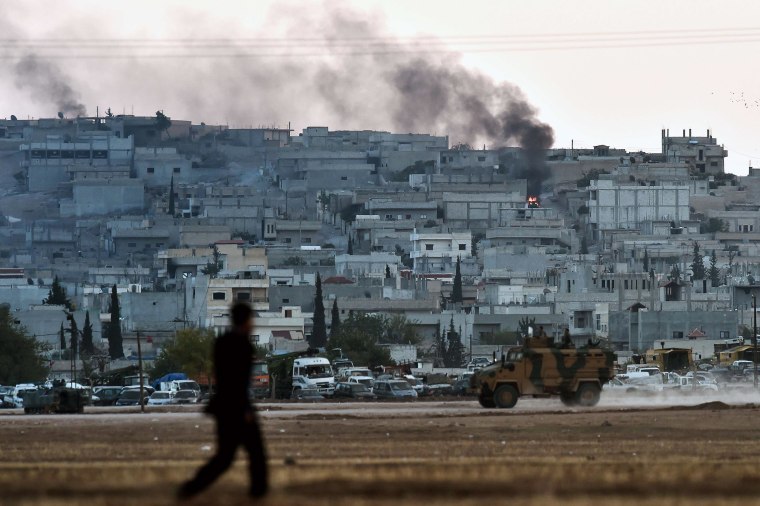 Still, some analysts caution that Turkey could simply be taking the time to study its options.
"Those sorts of military operations don't just snap into effect immediately," said Matthew Henman, manager of IHS Janes Terrorism and Insurgency Center. "They're probably looking carefully and looking to coordinate with the Americans on this."
With no sign that Turkey is ready to pull the trigger, Kobani — six miles from the border — remains in the spotlight. The battles have become bloodier, and Syrian Kurdish leaders have pleaded for weapons from the West, saying there will be a massacre in Kobani if help does not come soon.
"Both sides have invested a lot in it," Henman said."It's almost become too important for either side to lose."